Taking Submissions: Beyond the Hedge Volume 2: Chimeras and Phantasms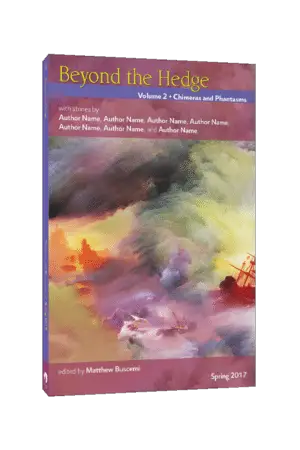 Deadline: November 30th, 2016
Payment: $20
What We Accept
Fuzzy Hedgehog Press is a publisher of weird speculative fiction for all orientations. If your story could be classified as fantasy or science fiction, we are interested. If the terms "new weird" or "slipstream" apply, even better.
We are open to stories that feature LGBT characters as well as those that do not. We are, however, wary of heteronormative societies and gay characters who function solely as a sidekick or best friend. We respect our LGBT characters' whole lives.
We do not publish works that are strictly romance (though we remain open to cross-genre submissions). We do not publish any form of erotica.
General Submission Guidelines
You may email [email protected] when submissions are open. Please adhere to the following guidelines:
Include your full name.
Include a brief synopsis of your work (no more than 250 words).
Explain why you think your work is a good fit for Fuzzy Hedgehog Press.
Attach your work as a docx (Microsoft Word) file. Do not include the text of your work in the body of the email.
Use a variable-space, legible font in your manuscript (if you are unsure, use Times New Roman, Crimson, or Calibri).
Use double line spacing.
Include your contact information on the title page of your work: Full name and email address are a must, physical address and phone number may be optionally included.
Include your work's word count on the title page as well.
Simultaneous submissions are allowed. When submitting simultaneously, please notify us immediately by email if we have your submission and it is picked up by another publisher. We can remain open to simultaneous submissions only so long as our submitters keep us informed of a story's status.
Submissions that deviate from these guidelines will not be considered.
While we wish we could respond personally to every email we receive, time limitations may prevent us from doing so in many cases. If we do not respond to your email within four weeks, you are welcome to query us again at that time.
Manuscripts not accepted for publication will be deleted.
Beyond the Hedge Volume 2: Chimeras and Phantasms
The theme of Beyond the Hedge Volume 2 is "Chimeras and Phantasms." What is the difference between dream and delusion, and how does reality differ from either of those? Are our flights of imagination wondrous or sinister? Show us visions of the past that rock the present. Show us visions of the future that reshape our perception of the modern world. Show us that "reality" itself is suspect. Show us your imagination's strangest chimeras and most mesmerizing phantasms.
Specific Guidelines:
SUBMISSIONS ARE OPEN. Submissions will close on November 30, 2016 or when the anthology has been filled.
Follow all of the general guidelines above.
Submissions must be 1,500 to 10,000 words in length.
The overarching theme of your story should fit with the theme of the anthology described above.
Use the following format for the subject line of your email: "Beyond the Hedge Submission: [Title of Work] by [Full Author Name]".
We do accept multiple submissions, but please no more than three submissions per author.
Submissions will be read in the order they are received.
Via: Fuzzy Hedgehog Press.
About the Author
Latest Posts
Stuart Conover is a father, husband, published author, blogger, geek, entrepreneur, horror fanatic, and runs a few websites including Horror Tree!