Taking Submissions: The Sirens Call eZine – Issue #13 – Women in Horror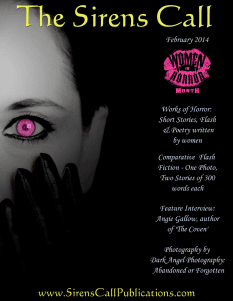 Deadline: January 31st, 2014
Payment: Exposure Only
Women in Horror – Issue #13
Hard to believe a year has gone by, but it has! It's almost February again, which means 'Women in Horror Recognition Month' is almost here!!!
The 13th issue of The Sirens Call eZine is all about celebrating women in the horror genre!
Rule One: You have to be a woman!
Rule Two: It has to be a work of horror!
Rule Three: See rules one and two again if it isn't clear by now…
Ladies, send us your creepiest, darkest, most twisted submissions.
Deadline: January 31, 2014
Sirens Call Publications is currently accepting submissions for our bi-monthly e-zine, focusing on edgy & dark fiction including Horror, Fantasy, Science Fiction, and Suspense genres.
We welcome short stories (1000 – 2500 words), flash fiction (300 – 500 words), and dark poetry in the dark fiction/horror realm.
Artwork, photography, film and literary reviews are also accepted as long as they are horror related.
Submissions should be sent to [email protected] with the subject line of "eZine(number)Submission_(YourStoryTitle)_(YourName)"
Formatting: The file should be a .doc or .docx; Times New Roman 12 point font; single spaced; first line indented. Please do not include a header. Please inquire if you have any questions, or visit our Submission Guidlines page.
Interviews with both up and coming or established authors will also be featured. Take advantage of this superb opportunity to gain exposure for your work and email [email protected] with your submissions, or contacting [email protected] with any queries.
Ad space is available for books, web sites and organizations supporting the literary or artistic community. A full page ad is $25. Please contact [email protected] for information.
We ask for one time publication rights only; stories that are previously published elsewhere are accepted provided that you hold the rights to them.
Via: Siren's Call Publications.
About the Author
Latest Posts
Stuart Conover is a father, husband, published author, blogger, geek, entrepreneur, horror fanatic, and runs a few websites including Horror Tree!