Taking Submissions: Pick Your Poison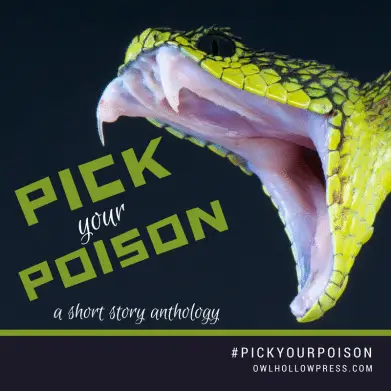 Deadline: June 30th, 2017
Payment: $50 and a contributor's copy
Note: Sorry about the short time on this, hit my inbox today!
As I sit in the hospital and watch my mother attached to a machine with a constant drip of chemicals, I'm enthralled (and terrified) by the paradox that medical professionals are dumping poisons into her body…in an attempt to save her life.
There's a fine line between hurting and healing. Between medicine and poison. And that line plays out in fascinating ways.
Like the toxic juice flowing inside the sterile hospital room, literature and folklore, as well as history and the present, are brimming with poisons and toxins, potent plants and venomous animals, used for both good and evil.
Snow White's poisonous apple, fed to her out of envy. Hamlet's family rivalry escalating to poisonous drinks and blades. Socrates' punishment of death by Hemlock. Wartime experimentation with tainted food, bullets, and gasses. Cleopatra's collection of venomous animals and plants to gauge their effects on humans. Modern-day witch doctors selling albino body parts as potions for success. Martian and Moon dust with enough toxins and metallic substance to end a human life. Both real and fictional, intentional and naturally occurring, poisons will always be used for the darkest of purposes.
But the opposite is also true. Australian citizens are paid to collect funnel-web spiders, their venom used to create antidotes for bite victims. For centuries, midwives have used herbs, potions, amulets, toadstools, and charms for healing. Sherlock Holmes occasionally dabbles in cocaine to sharpen his mind. Penicillin mold saves lives from infectious
 diseases. The Princess Bride's charming  Westley spends years building up immunity to iocane powder, practicing mithridatism, named for King Mithridates who poisoned himself daily to become resistant to poison-related assassination attempts. Poisons have their advantages, too.
Whether it's battling space toxins, imbibing witches brew, vaccines used maliciously, black widows finishing off their mates, princesses meeting poisoned fruits, or modern medicine gone haywire, poison is everywhere. Whether good or evil, hurting or healing, fact or fiction, we can't escape its potent charm.
So tells us a story. Go ahead, pick your poison.
The details:
Stories should be new and NOT published elsewhere.
Stories should be less than 7,500 words.
Submissions will be accepted June 1st – 30th.
Authors will be notified of acceptance or pass by July 15th. 
The anthology will be published in October 2017.
Authors selected for the anthology will be paid $50 & receive one print copy of the finished book.
All stories will be entered for a Readers' Choice Award. The winning prize is $100, Runner-up is $50.
If we are interested in your story, we will send you a contract and additional details about edits, payment, and final due dates.
Send entries to [email protected] as an attachment with Pick Your Poison in the subject line, and we will respond between June 30th and July 15th. We look forward to hearing from you!
Via: Owl Hollow Press.
About the Author
Latest Posts
Stuart Conover is a father, husband, published author, blogger, geek, entrepreneur, horror fanatic, and runs a few websites including Horror Tree!