Taking Submissions: Path of Absolute Power: Superhero Anthology
December 31, 2022

-

January 1, 2023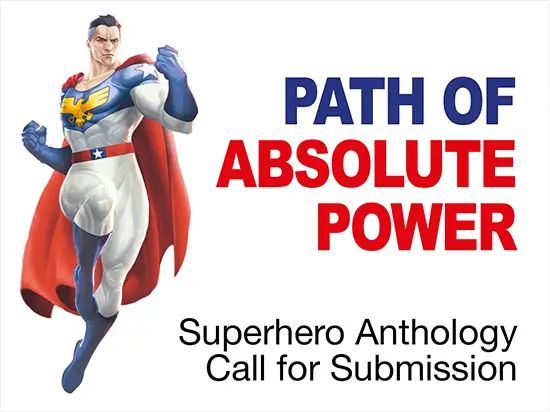 Deadline: January 31st, 2023
Payment: 5-12 US cents per word
Theme: Stories will be set in the fictional comic book universe of the Absolute Power tabletop role-playing game
Note: Not a huge fan of how they determine the payment scale but as it is rare that we see superhero markets open I wanted to include this one.
Dyskami Publishing Company is seeking short story submissions for our upcoming superhero fiction anthology Path of Absolute Power. Stories will be set in the fictional comic book universe of the Absolute Power tabletop role-playing game (the second edition of the Silver Age Sentinels RPG) and is a thematic follow-up sequel to the Path of the Just (2003) and Path of the Bold (2004) anthologies published by Guardians of Order. This anthology will contain traditional short story fiction and is not a LitRPG or GameLit work, however; the powerful, dramatic narratives should be decoupled from role-playing game mechanics.
Stories should explore the actions of heroes, villains, and neutrals as they navigate the enticement of great power in a world of normal people. The complexities of using superpowers in a mundane world are perhaps best described in the opening sentences of Book One of the Absolute Power role-playing game:
The Silver Age has come and gone. Superpowers now bring fear as often as comfort, and shades of grey cast the world in shadow, muting the shining colours of yesteryear. Villains have become stronger, and their influence is felt in every nation. The need for heroes is greater than ever. Can you balance superhuman gifts with humility, compassion, and hope? Do you have what it takes to resist the ever-present lure of Absolute Power?
The game title "Absolute Power" is not intended to glorify raw might or some concept of necessary corruption. Absolute Power is a warning against the desire to reach for that little bit more power to keep up with those opposed to society's greater good. All that's needed is a little more control, a little more authority. Superheroes are, ultimately, about the hope that power does not have to corrupt – that we can be more than our failures, that we can leave the world a better place than we found it. It is a difficult, perilous journey, but there are few more rewarding.
Authors submitting stories for consideration to this anthology must be familiar with the Absolute Power world setting as detailed in Book Two: Essentials of the core game rules (ISBN 9781989695173; or ISBN 9781989695227 as part of a two-volume slipcase set). As of August 2022, the Book Two PDF is immediately available to download from DriveThruRPG. Pre-orders for the physical book will ship in late September 2022, which is available from Dyskami's BackerKit pre-store – though associated free PDF copies are also emailed to customers promptly after any physical pre-order are placed. Authors should become familiar with the world setting and major characters presented in Chapters 2 (Heroic Campaign History), Chapter 3 (Empire City), Chapter 4 (Sentinel-Earth), and Chapter 7 (Dramatis Personae). Optionally, stories set beyond the Sentinel-Earth dimension may also require knowledge of Chapter 5 (Magic Realms) and Chapter 6 (Beyond Earth).
It is important the structure and narrative presented in each story be a recognisable (potential) part of the Absolute Power game setting. Authors are welcome to use Sentinel-Earth's major and minor setting characters in their stories in addition to their own fictional characters. Authors retain copyrights to their stories as a whole as well as to any of their created characters.
Submission Details
Deadline: Dyskami must receive emailed story submissions by 31 December, 2022
Length: 3,000 to 7,000 words
Remuneration: 5-12 US cents/word (depending on author experience/profile/publications) by 31 January, 2023, plus two printed author copies.
Language: English (American spelling)
Rights: Exclusive first world English-language rights for six months after publication in both print and electronic/audio formats, plus republication/additional edition rights for the anthology in its entirety
Method: Email your story in something approximating standard manuscript format to 

[email protected]

Response: Dyskami will respond via email to all authors by 31 January 2023, whether or not their story submission is accepted for publication in the anthology
Via: Dyskami.
About the Author
Latest Posts
Stuart Conover is a father, husband, published author, blogger, geek, entrepreneur, horror fanatic, and runs a few websites including Horror Tree!