Taking Submissions: Nothing's Sacred Vol. 4
February 28, 2018

-

March 1, 2018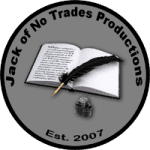 Deadline: February 28th, 2018
Payment: $.05 per word
Open for Nothing's Sacred Vol. 4
From: January 26th – February 28th
Projected Release Date: October 1, 2018
Nothing's Sacred is Jack of No Trades Productions' horror magazine. It is made up of  original short fiction, poetry, articles, book reviews, two sentence short stories, and comics. As said in the magazines' namesake, nothing is off limits. The horror within can range from subtle to grotesque, psychological to physical, dark to full out terror so long as it is character driven. Theme wise, Nothing's Sacred is relatively open outside of distasteful stories of rape, the degradation and/or humiliation of women, and child content of any kind.
What we're  looking for:
Fiction – 3,000 word max. NO REPRINTS Pay rate $.05
Articles – Should be related to or about the horror genre. 2000 word max. Pay rate $.05
Poetry – 3 poems max per submission. 250 words max per poem. Pay rate $10 per poem.
Two Sentence Fiction – Just as implied, these stories are extremely short. We will consider up to five submissions per author. Pay rate $5 per story.
Comics – We first introduced comics into Nothing's Sacred in Vol. 3 to include a humorous element to our layout. Comics should include elements of horror in them, and may be either a full page or a banner size (as you would find in your Sunday paper), strip. Pay rate $90 per comic.
Pay out for all material: Upon publication
Seeks North American Serial Rights and Electronic Rights.
Guidelines for Submission:
The following guidelines are intended to be used for all of the categories mentioned above. All Submissions should be double spaced and be typed in either Courier or Times Romans (preferably), 12 font. Submissions with multiple pages will be required to have page numbers after the first page.
To submit, email material as an attachment with a description of the story in the body of the email. Also, to ensure that submissions are not deemed as spam, please enter (Submission)after the name of your work in the subject field.
All emails should be sent to:    [email protected]
Via: Jack Of No Trades Productions.
About the Author
Latest Posts
Stuart Conover is a father, husband, published author, blogger, geek, entrepreneur, horror fanatic, and runs a few websites including Horror Tree!