Taking Submissions: No Trouble at All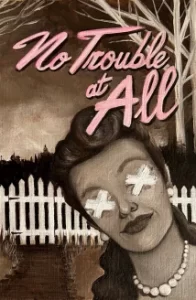 Submission Window: March 1st, 2023 – March 15th Extended submission period for writers of marginalized backgrounds (broadly defined) March 16th — March 22nd.
Payment: At least 4 cents per word, possibly higher dependant on a Kickstarter
Theme: Stories of polite horror:
Edited by Eric Raglin and Alexis DuBon for Cursed Morsels Press, No Trouble at All will feature stories of polite horror: horror disguised through polite faces/manners, horror allowed to exist when politeness comes at the cost of self-preservation, and any other interpretation of the theme. We love thought-provoking stories, complex characters, unapologetic weirdness, and bold narrative risk-taking.
We've received questions about whether this is a "Midwest nice" anthology. It is not, but your story can explore that aspect of polite horror if it speaks to you. Polite horror is all around us. Think about how power works. How those without it are expected to smile and accept injustice for fear of retribution. How those with power dress up ugly realities and make suffering palatable to prevent resistance. Polite horrors come from both sides of the weapon—the wielder and the wounded. They color our intimate, familial, professional, cultural, and political realities. Don't feel limited to any particular environment. Take it somewhere close—a domestic partnership; or take it larger scale—Good Germans. Have fun, go nuts.
Before reading the rest of the submission guidelines, note that the existence of this project is contingent on the success of its Kickstarter campaign. We are grateful to everyone who spreads the word. Donations can be made at the following link: [Link will be added later—check back soon!].
Note that some writers have specifically been invited to contribute. The anthology will be a mix of solicited stories and stories selected from the open call submission period. Submissions are open to all writers, but we especially encourage submissions from writers of marginalized groups.
Open to submissions from all writers March 1st, 2023 – March 15th. Extended submission period for writers of marginalized backgrounds (broadly defined) March 16th — March 22nd.
"No Trouble at All" will be published in both ebook and paperback on June 6th, 2023.
Stories should be between 2,000 and 4,500 words.
Simultaneous submissions are allowed, but withdraw your submission immediately if it gets accepted elsewhere.
No multiple submissions. No reprints.
OTHER SUBMISSION CONSIDERATIONS
We expect and encourage stories that deal with ugly topics; however, we will not tolerate stories that are bigoted in nature or pose oppressor as victim. Racist, queerphobic, misogynistic, antisemitic, or otherwise fascistic stories will be rejected.
Do not submit stories that involve violence against dogs or wolves.
If you're retreading well-established tropes, make it fresh.
We're fine with horror that has erotic elements, but emphasis should be on the horror.
Gore and extreme elements are fine. Just make sure they serve the story.
Don't be moralizing.
FORMAT
Use standard manuscript format. Send a doc/docx attachment. Do not copy-paste your story into the body of the email or submit it in any other format. We won't read it if you do.
Please send submission to [email protected]. Include your name, story title, and word count in the subject heading (e.g., Firstname Lastname— "Story Title" — #### Words").
PAYMENT
$.04 USD per word via PayPal for a short story after contract signing and final edits, and a free e-book copy of the anthology following publication. We hope to raise this amount if we meet our Kickstarter stretch goals.
RIGHTS
Exclusive First Worldwide Publication, Print, and Electronic Rights for three months, and non-exclusive rights thereafter.
Via: Eric Raglin.
About the Author
Latest Posts
Stuart Conover is a father, husband, published author, blogger, geek, entrepreneur, horror fanatic, and runs a few websites including Horror Tree!