Taking Submissions: Passageway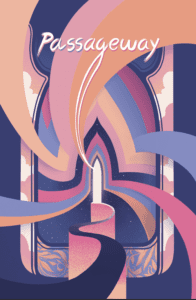 Deadline: March 27th, 2023
Payment: €150
Theme: Stories inspired by a passageway that explores new areas or territory
Note: Apologies for the late notice, I only found this one today
From Feb 21st to March 27th*, we are open for short story submissions for our new collection, Passageway! We are looking for stories of all genres that respond to our title and/or cover art, and selected writers will receive a flat rate of €150 for accepted submissions.
Home is behind, the world ahead
(Tolkien, 1954)
The paths of perception are thrown open, and new realities loom beyond –
all that is left to do is to cross the passageway.
New adventures, friends and foes, and whole worlds out there; all of that is being promised to those who cross the threshold. Without any guarantees, or without knowing what's out there, we want to follow the journeys of those who dare to go beyond.
Maybe the passage will upend reality itself, or maybe it'll only show a new way to live in the same old one; it might lead into parallel dimensions or take you inside yourself; and maybe, the person that steps in will not be the same that steps back out, if they ever do.
Passageway is for stories that dare to experiment, that cross further than they have ever been before, and that encounter whatever may come with hope and open arms.
For our fifth anthology, we want stories inspired by our title – Passageway – and the cover artwork below, created by artist Monge Han. All genres of writing are welcome, as long as they explore a story of embracing the unknown (which can be as real or as magic as your heart desires)! More than any specific story or style, we want the emotional response the title and artwork evokes in you.
And in the words of Stephen King, always remember,
There are other worlds out there.
Via: Sans Press.
About the Author
Latest Posts
Stuart Conover is a father, husband, published author, blogger, geek, entrepreneur, horror fanatic, and runs a few websites including Horror Tree!