Taking Submissions: Night Terrors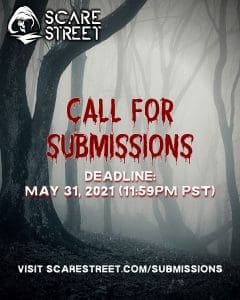 Deadline: May 31st, 2021
Payment: 1 cent per word ($10 for every 1,000 words prorated, $50 for every 5,000 words prorated, and so on) + E-book and Audio format anthology copies
Theme: Short horror stories that focus on ghosts, the supernatural, paranormal, monsters, and dark tales
Scare Street is now accepting submissions for its Night Terrors anthology.
We're looking for unpublished short horror stories that focus on ghosts, the supernatural, paranormal, monsters, and dark tales.
We want dark, creepy, weird, and unsettling fiction that are expertly told. Give us character-driven narratives with clever but logical twists at the end, creative and fresh takes on common horror tropes, terrifying monsters, and suspenseful tales. Gore and violence are fine as long as it follows our guidelines and it's not just for shock value.
Length: 3,000-7,000 words (we will consider stories that are slightly outside the word count range)
Reprints: No
Deadline: May 31, 2021
Payment: 1 cent per word ($10 for every 1,000 words prorated, $50 for every 5,000 words prorated, and so on) + E-book and Audio format anthology copies
Via: Scare Street.
About the Author
Latest Posts
Stuart Conover is a father, husband, published author, blogger, geek, entrepreneur, horror fanatic, and runs a few websites including Horror Tree!