Taking Submissions: Negative Space 2: A Return to Survival Horror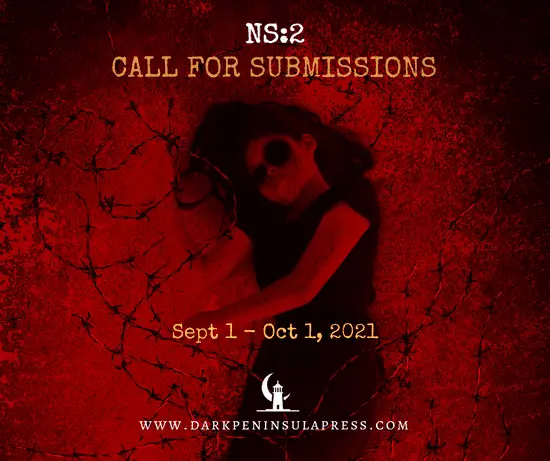 Submission Window: September 1st – October 31st, 2021
Payment: $50
Theme: Survival Horror
Negative Space 2: A Return to Survival Horror
Compiled and Edited by Aric Sundquist
Short Story Submission Call: September 1 – October 1, 2021 (opening soon…)

Fiction Submission: Survival Horror.
Word Count: 2,000 – 7,500 words.
Payment: $50.00 + digital copy.
Rights: We are seeking first time rights for 1 year after publication. After that time all rights revert back to the author. The publication will appear in both print and digital formats.
Reprints: None. Previously unpublished only.
Multiple Submissions: None.
Simultaneous Submissions: None. Please wait until you hear back from us before submitting your piece to another market.
File Format: Include your story as an attachment in MS Word (DOC or DOCX), LibreOffice, or Rich Text Format.
Manuscript Format: Use the Modern Shunn Format. Include a short bio in the body of your email. Your subject line should read NS2 Submission: ("Title") by (Author's Name). For Example, NS2 Submission: "The Black Phone" by Joe Hill. Attach the story as a separate document.
Response Time: 2 – 3 weeks after submissions close.
Submission Period: All submissions must be received between September 1, 2021 and October 1, 2021 EST. Any story sent before or after will be deleted unread.
Send Submissions to: darkpenpress (at) gmail (dot) com
Influential Games/Series: Resident Evil, Silent Hill, Clock Tower, Fatal Frame, Dead Space, State of Decay, Rule of Rose, Siren, Parasite Eve, Amnesia, Haunting Ground, Obscure, Tomb Raider (2013 reboot), A Plague Tale, Eternal Darkness, Outlast, The Evil Within, Dino Crisis, The Last of Us, Alone in the Dark, Remothered, Darkwood, Alan Wake.
Influential Novels & Novellas: The Mist by Stephen King, I Am Legend by Richard Matheson, Off Season by Jack Ketchum, Bird Box by Josh Malerman, The Shadow Over Innsmouth by HP Lovecraft, The Terror by Dan Simmons, The Girl With All the Gifts by M.R. Carey.
Influential Movies: The Descent, The Thing, Alien(s), Cube, Predator, Night of the Living Dead, Deliverance, Jaws, Rogue, Wrong Turn, Green Room, The Hills Have Eyes, The Edge, A Quiet Place, 28 Days/Weeks Later, Open Water, The Ruins, Pitch Black, The Platform.
Via: Dark Peninsula Press.
About the Author
Latest Posts
Stuart Conover is a father, husband, published author, blogger, geek, entrepreneur, horror fanatic, and runs a few websites including Horror Tree!