Taking Submissions: Monsters!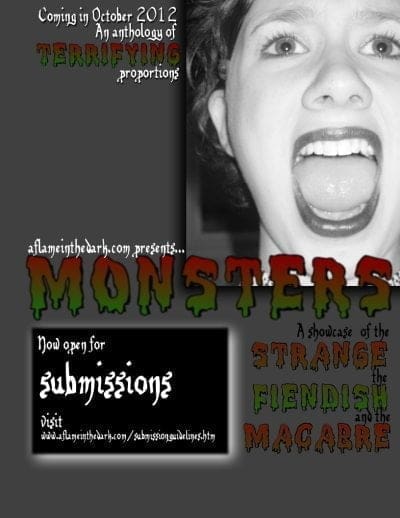 Monsters!
Deadline: May 31st, 2012
Payment: Contributor's Copy
Submission Deadline: May 31, 2012
Projected release: October 31, 2012
Send Submissions to: [email protected]
Project Guidelines:
Monsters exist. Sure, they don't exactly advertise it, but they're out there. Some people know about them — about the vampires, werewolves, boogiemen, and other creatures that walk the night — but most remain wilfully (and blissfully) oblivious.
This is the world of aflameinthedark.com's very first horror anthology, Monsters!
Since you're dealing with creatures of the night, you, as a writer, have a lot of room in how you interpret this world, but there are a few rules of which you should be aware.
First, you don't have to deal with classic monsters. You can feel free to make up your own creature, or use variations on nontraditional themes. However, if you do choose to write about a more traditional monster (like vampires and werewolves, for example), classic movie rules apply. Silver hurts werewolves. Vampires hate garlic and crosses, have a severe sun allergy, and can be killed with a stake through the heart.
And speaking of classic monster movies, think about your favorites as you write. Stories can be serious, or perhaps a little cheesy (humorously so). Imagine your story playing on-screen at a 50s or 60s drive-in.
We're going for pulp, here.
Stories must also contain an element of faith. As the website's title suggests, A Flame in the Dark is about shining a light in the darkness. Which reminds me, please also read the general guidelines below as well, as those are always applicable (and include formatting information).
Length: we're looking for flash fiction (500 words) or short stories (up to 7500 words). If you have something longer, please inquire first.
Payment: Pays one print copy of the anthology
General Guidelines:
The following guidelines govern everything submitted to AFitD…
A Flame in the Dark is a website dedicated to horror, thriller, or suspense fiction from a biblical perspective. The stories we publish have a decidedly Christian slant, though we aim for fiction that isn't preachy or message-oriented. To put it another way: we want stories, not sermons. This isn't to say your story shouldn't or can't have a message to it — most of the good ones do — only that, if your subtext outweighs your context, it will be rejected.
What we are looking for is a story that entices and thrills. A story that intrigues and frightens. And, ultimately, a story that blesses.
Let the site title guide you: A Flame in the Dark. What we're talking about here is a light coming through the Darkness. Though the ideal story will be moody and frightening, ultimately we're looking for a ray of hope. Stories with ambiguous endings are great; but we're not looking for bleak or depressing.
Other things we're not looking for: swearing, explicit sex, graphic violence. This isn't a moral judgement on any one of these things, but stories which include them just aren't right for what we're trying to do here. The point is to create good, thrilling stories, but with a marked difference from their "secular" counterparts. If this describes your writing, we'd love to read it!
Submitting: Submissions should be sent as .rtf or .txt files to [email protected]. Submissions should be single-spaced with no indenting. Paragraphs should be separated by a single line, while sections can be denoted with use of a single asterisk between paragraphs.
[via: A Flame In The Dark.]
About the Author
Latest Posts
Stuart Conover is a father, husband, published author, blogger, geek, entrepreneur, horror fanatic, and runs a few websites including Horror Tree!