Silver Shamrock Has Closed Their Doors
Taking Submissions: Midnight in the Stagecoach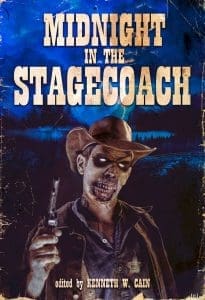 Deadline: April 30th, 2022
Payment: $ 0.06/word
Theme: Horror set in the 1800s Old West
Evil awaits you on the dusty trail…
With the success of our first three MIDNIGHT anthologies (Midnight In The Graveyard, Midnight In The Pentagram, and Midnight From Beyond The Stars), it's time to roll out the 4th in our ever growing series – MIDNIGHT IN THE STAGECOACH!
Silver Shamrock Publishing is announcing the Open Call for the MIDNIGHT IN THE STAGECOACH anthology.
We're looking for original splatterpunk western short stories set in the late 1800s Old West. Any horror trope is fair game. You can do a straight up killer cowboy tale, vampires, werewolves, aliens, a Cthulhu sighting, zombies, cryptids, ghosts, ANYTHING! Just as long as it's horror and you're not bashful with red stuff. But, we caution, gore doesn't replace story. If the story isn't there, it doesn't matter how much you've painted the pages crimson, it won't make the cut. So put on your 10-gallon thinking cap and give us a story we can't refuse!
Specific submission guidelines:
The deadline for receiving submissions is April 30th, 2022. (anything received after this date will not be considered).
Submit by email to: [email protected]
Length: 2,500 – 6,000 words.
Format: preferred format is Doc or Docx, double-spaced with author email at the top of the first page.
– Please use the anthology title, MIDNIGHT IN THE STAGECOACH, in the subject heading of your email.
– A writer's CV with a summary of previous publications, awards, recognition, influences, hometown and social media links.
– The word count.
– Acknowledgement of receipt of your manuscript will be emailed within 3 business days.
– Successful authors will receive a contract upon acceptance. Once we have a signed contract by the author and Silver Shamrock Publishing, payment will be made within 30 days via PayPal.
Payment: Professional rate of $ 0.06/word.
Note: This is an invitation AND open-submission anthology (approx. 75% invitation/25% open-submission). With the All-Star cast of horror writers we assemble, this will prove to be a very competitive open-submission, with us only taking the very best entries.
Via: Silver Shamrock Publishing.
About the Author
Latest Posts
Selene MacLeod is a night operator and sometime writing hobbyist. She holds a BA in Communications from Wilfrid Laurier University and resides in Kitchener, Ontario. Her work has appeared in several horror and crime fiction anthologies, most recently Shotgun Honey, Drag Noir (Fox Spirit Books); and the upcoming Freakshow: Freakishly Fascinating Tales of Mystery and Suspense (Copper Pen Press), and Tragedy Queens (Clash Media).She's most excited about editing a charity anthology for Nocturnicorn Books called Anthem: A Tribute to Leonard Cohen, due out late 2017.