Taking Submissions: Midnight in the Dying Garden: Fairy Tales for the End of the World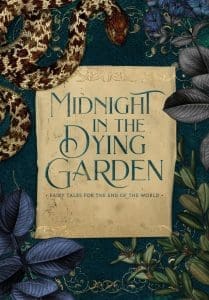 Deadline: April 30th, 2022
Payment: Literary horror with a fantastical twist
Theme: $25 – $150 CAD for original work depending on length, $10 – $70 CAD for reprints
Note: Reprints welcome
Nestled in a forgotten wood deep within a shadowed valley lies the hidden heart of the world: A dark, enchanted garden where every blossom holds a secret, every tree bursts with ten thousand memories, and each mushroom pulses in an endless relay, transmitting tales from half a world away. The wind itself whispers forgotten sorrows to the only creature left in the garden: The terrifying and enchanting Storyteller.
But the garden's lushness is a lie. Its explosion of ferns and flowers hides a terrible secret: the garden is dying. Without listeners to sustain it – without imagination, hearts, and souls to feed it – the heart is fading, and taking the world with it.

So the Storyteller waits in vain for an audience that never comes—an audience whose ears and eyes can save the garden, who can keep the world's heart beating a little while more.
One a stifling, starry midnight, a stranger finally stumbles into the wilted garden and listens to the Storyteller's wonderful, terrifying tales. But when this visitor – the first in centuries – learns that no listener leaves the garden alive, she strikes a desperate bargain.
She promises to spread these stories across the earth, and in doing so remind humanity of the garden that is the heart of the world…and of the sacrifices it needs to keep beating.  
That promise has been fulfilled.
So settle into the lush grass, but take care not to crush the night flowers. It is time to listen now. Time to hear, time to give the garden what it needs. It's already so late, you see, and the Storyteller has just begun…
Midnight in the Dying Garden: Fairy Tales for the End of the World is a book of horror stories with a fantastical twist. We're looking for tales that are horrific, enchanting, and sometimes lovely. We want stories that showcase devastation and ecstasy, divinity and savagery, terror and bravery, beauty and hideousness, joy and despair, and everything in between. Think of a story that might be a swan song for a fading earth…or a simple lament for a dying garden.
Guidelines are as follows:
Send all submissions to [email protected]
Deadline: April 30th, 2022
Length: 1000 – 7000 words. (We'll look at stories that fall outside these numbers, but try to match them as closely as possible.)
Format: Word, Open Office, or RTF format only. Please use a normal font.
Payment: For previously unpublished work, payment will be between $25 – $150 CAD depending on length after edits, and paid on publication. Reprints will receive $10 – $70 depending on length after edits, and will be paid on publication.
Reprints: Reprints are accepted, but previously unpublished stories will be given strong preference.
Rights: First Rights for previously unpublished work; One-Time Rights for reprints. For previously unpublished work, we ask for exclusivity for six months following publication, but this is negotiable. After that, no exclusivity is expected or requested. All rights and copyright remain with the author.
Other Information: While we have no preference in regards to setting, time, or place and while dark fairy tales and mythic stories are certainly welcome, we aren't looking for alternate universe stories. All submissions should more or less take place in this world/reality.
Via: Kopfkino Media.
About the Author
Latest Posts
Stuart Conover is a father, husband, published author, blogger, geek, entrepreneur, horror fanatic, and runs a few websites including Horror Tree!