Taking Submissions: Lustcraftian Horrors: Erotic Stories Inspired by H. P. Lovecraft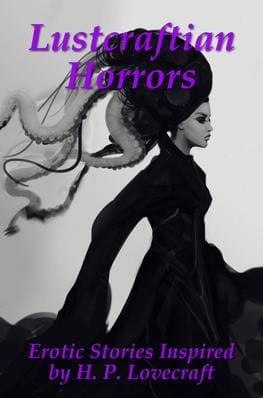 Deadline: December 21st, 2018
Payment: 10% of royalties earned through Kindle, Nook, and print on demand sales OR a one time payment of $25
Note: Reprints allowed
Lustcraftian Horrors: Erotic Stories Inspired by H. P. Lovecraft will be the first multi-author anthology from Infernal Ink Books and it is now open for submissions.
The submission period will run from August 20th (H. P. Lovecraft's birthday) until December 21st (Very Scary Solstice) 2018.
Guidelines:
We are looking for erotic stories inspired by the mythos, characters, and stories that were created and written by H. P. Lovecraft. Both the erotic elements and connection to Lovecraft's work should be strong and clear. We don't want the reader to have to be a Lovecraft scholar in order to get the connection, nor do we want them left scratching their heads wondering what was suppose to be so erotic about what they just read. Our triggers do not need to be warned, but the reader's triggers should be. The "erotic" in Erotic Horror is defined here very loosely. The sex can be either horrifying or titillating…or both.
Stories should be between 2,000 and 10,000 words. Some wiggle room will be allowed, but we're looking for stories with some real body and depth to them. No flash fiction.
Reprints will be considered, but previously unpublished work will be favored. You must hold or have retained all the rights required to submit your work and enter into a publishing contract with us at the time of submission.
Simultaneous submissions are discouraged. If you have a piece you would like to submit to us for this anthology that is already out to another publisher being read, let us know as soon as possible if your work has been accepted elsewhere. Otherwise, please, wait to hear from us before submitting a piece we are reading to another publisher. We aim to have as quick of a turn around time on submissions as possible, with our goal being to have our choices made and the contracts signed no later than the end of January 2019.
We're not super picky about formatting, but all submissions must be made via email as a .doc, .rtf, or .docx file attachment. Submissions sent in the text of the email or by other means will not be read or considered.
Submissions must be sent to hyd[email protected] with the subject line LUSTCRAFTIAN SUBMISSION.
In lieu of a traditional author's bio, we would like each author to write a brief explanation (a paragraph or two) detailing specifically which Lovecraft characters, story, or mythos inspired their work. This should be written in the first person and MUST be included along with the submission.
No poetry.
No art, illustrations, or photography.
LGBT characters and authors are welcome.
Authors must be 18 years of age or older.
Payment will be 10% of royalties earned through Kindle, Nook, and print on demand sales OR a one time payment of $25, paid at the time of publication. It will be each individual author's choice which they will receive. This decision must be made at the time the contract with us is signed. All funds will be paid via PayPal in US Dollars.
Via: Infernal Ink Books.
About the Author
Latest Posts
Stuart Conover is a father, husband, published author, blogger, geek, entrepreneur, horror fanatic, and runs a few websites including Horror Tree!