Taking Submissions: Listen: The Sound of Fear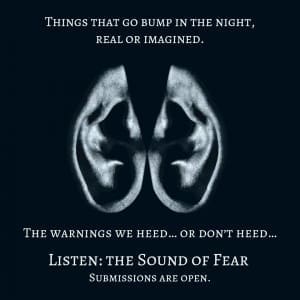 Deadline: March 31st, 2022
Payment: "Split proceeds among all contributing authors."
Theme: A gothic horror story collection centered around sound
Note: Open to all trans and nonbinary authors
LISTEN: The Sound of Fear
Things that go bump in the night, real or imagined; that certain song or sound that threatens madness; the warnings we heed…or don't heed…
NineStar Press is seeking submissions to LISTEN, a gothic horror story collection centered around sound, featuring trans and nonbinary authors from our community. While we want a terrifying tale, it must have gothic elements. Rather than relying on gore for scares, give us the fear that lives within.
Anthology theme: terrifying tales with gothic elements with "sound" as an important detail
Examples of story themes you might include (but are not limited to): psychological fear, doomed romance, family curses, homes haunted either by actual ghosts or ghosts of the past, your other great idea!
Submission deadline: March 31, 2022
Requirement: open to all trans and nonbinary authors
Story length: up to 15K
Heat: from sweet to erotic; fade to black to explicit
Content: the story must feature an LGBTQA+ character; any romantic pairing; HEA, HFN, or unhappy ending
Genre: all (contemporary, fantasy, PNR, literary fiction; with gothic horror elements)
[Editor's Note: This market has specific guidelines for things they do not want to see. Please click on the link at the bottom of this post for all the details and follow their guidelines: it's the polite and respectful thing to do. Also, it will help those submitting avoid being rejected on anything other than the quality of their work.]
What to do:
Send an email to [email protected] with the following:
Subject line:  LISTEN ANTHOLOGY: [Story Title], [Author Name]
In the email body (include as a bullet list):
Category (romance fiction or literary story)
Genre (contemporary, fantasy, PNR)
Pairing (ie: MM, FF, trans, NB, ace, genderfluid, etc.)
Length
Previously published (Yes / No)
A short description of the story (one paragraph)
Previous author credits, if any
Manuscript requirements:
Attachments: All attachments should be in .docx, .doc, or .rtf format
Manuscripts should be complete and edited to the best of your ability. Please use the following formats when preparing your manuscript for submission:
Times New Roman, 12pt font
1" margins
.5" indent first sentence of each paragraph
Spacing of 1.5 between lines
Via: Nine Star Press.
About the Author
Latest Posts
Stuart Conover is a father, husband, published author, blogger, geek, entrepreneur, horror fanatic, and runs a few websites including Horror Tree!