Taking Submissions: Holy C.O.W.!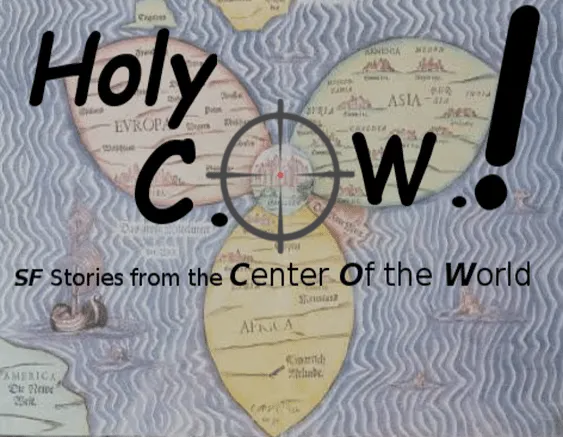 Deadline: November 30th, 2017
Payment: $0.07 – $0.10 per word + contributor copy.
Holy C.O.W.! SF stories from the Center Of the World is an anthology of Speculative Fiction stories rooted in the ancient Fertile Crescent, Levant and the Middle East, but stretch into the near and distant future.  Holy C.O.W.! is seeking all styles and sub-genre, including humorous speculative fiction.  Addition consideration will also be given to artists who live or are from the region.
SUBMISSION WINDOW: November 1 – November 30, 2017
LENGTH: 500-6000 words.
PAYMENT: $0.07 – $0.10 per word + contributor copy. Payment will be made upon acceptance. Our preferred method of payment is via PayPal, but you may request a check.
FORMAT: ODT RTF or DOC. Standard Manuscript Format or some close approximation.
SEND TO: [Upload your stories via this submissions link.]
Limit of 1 submission per author — even if you receive a response before the submission window closes please do not send another story unless directly invited to do so.
Please do not respond to rejections. The email address associated with submissions is not monitored. If you wish to query for any reason, please use the contact form or e-mail us: editor at holycowpublishing dot com.
RIGHTS SOUGHT: First Worldwide print and electronic English Language rights. Exclusivity for 90 days from date of release. Non-exclusive print, e-book, and audio rights afterward.
POLICIES & RESPONSE TIME: No reprints, multiple or simultaneous submissions please. You may query after 30 days. Please send only one submission per author unless directly invited to send more.
WHAT WE WANT:
We're looking for speculative stories rooted in the Fertile Crescent, Levant and the Middle East.   The region should be an integral part of the story, and not simply a transplant.  For ideal example think of how Mike Resnick's story "Kirinyaga" relates to Africa culture and issues.  We welcome quality flash fiction and non-traditional narratives.  Authorized English translations of original stories, particularly from regional artists, are also welcomed and encouraged.
Via: Holy C.O.W. Publishing.
About the Author
Latest Posts
Stuart Conover is a father, husband, published author, blogger, geek, entrepreneur, horror fanatic, and runs a few websites including Horror Tree!