Taking Submissions: Ho Ho Ho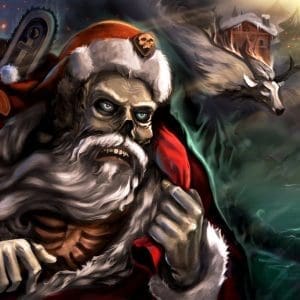 Deadline: September 29th, 2023
Payment: $1 per drabble, up to 10 drabbles.
Theme: 100-word Christmas horror stories with exactly a 2 word title.
BLACK HARE PRESS is—and has always been—an inclusive publisher. LGBTQ+ characters always welcome.
All our calls are for dark speculative fiction or weird/horror.
No co-authored projects, please, unless the call specifically says they are allowed.
2 word title
100 word story (excluding title and pen name).
A bio of no more than 15 words, plus one link << this is really important. Don't include links to retailers (ie Amazon) as the books get rejected when they have retailer links. If you want to include one, we suggest you set up something like linktr.ee (here's ours: linktr.ee/blackharepress) or bio.site (here's ours:  bio.site/blackharepress)
$1 USD per acceptance.
Up to 10 acceptances per pen name. Want more? Easy—use another pen name.
First three to 10 get a $10 Amazon voucher.
First to 10 also gets a paperback copy of the final product.
One email, one drabble. We won't look at submissions with more than one drabble, as we don't have time to extrapolate them into the read process.
Blind submissions for the actual manuscript, please.
Reprints are OK, but we'll have no space for "First Published" acknowledgements, so please check your obligations with previous publishers first (if your first publisher is BHP, then you automatically have permission, as long as it wasn't published in the last 12 months).
No simultaneous submissions, please.
Theme: December, holidays around December (Immaculate Conception, St Nicholas Day, Christmas, Bodhi Day, Feast Day of Our Lady Guadalupe, Hanukkah, Kwanzaa, Zarathosht Diso, and anything else you can think of), myths and legends, etc.
Genre: Must be dark, but any genre, including (not an exhaustive list): horror, science fiction, LGBTQ+, romance/ steamy/erotic horror, cosmic, speculative, fantasy.
Submit to: [email protected].
Will be available in: Paperback, hardcover, and digital.
Publication Date: circa December 2023
Submission Guidelines: 
Whilst we are open to all genres and styles of writing, ultimately we reserve the right to reject topics that are not suitable for our publications. Please read the individual submission call information for guidance.
Word count requirements, deadline dates and author compensation are detailed against each submission call. Hyphenated words will be counted as one word. Paragraph breaks are not included in word counts.
All submissions must be in English.
Our stance on;
Erotica with animals – Unless your character is in the fantasy world (ie werewolf) this is a hard no.
Erotica – Don't go overboard, but if your story requires sex scenes, go for it.
Graphic non-con sex is never OK. If your story needs it, glimpse but don't dazzle.
Formatting: 
NO TABS!
All manuscripts must be in .doc/.docx format.
In the header section of your manuscript please include your  story title and the manuscript word count (excluding header section information).
Font : Times New Roman 12 point
Spacing : Double line spaced. Indent new paragraphs. Single space between sentences.
Scene breaks : ***
Spelling : British English
Manuscript: 
All submissions are read blind. Do not include personal information IN your manuscript (no name, no pen name, no email, no address).
Do not include personal information in your document name.
Your document name must be [CALL] – [THEME (where there is one noted)] – [TITLE]. doc/x (no brackets).
Your document must be attached – no links, please. We won't follow them.
Bio:
Novellas: No limit
Short stories: Maximum of 100 words plus 2 non-retailer links
Rest: Maximum of 50 words plus 1 non-retailer links
Address your email "G'day awesome Black Hare Press Team"
Email Subject:
In your email subject, include [CALL] – [THEME (where there is one noted)] – [TITLE] – [PEN NAME]
For example;
DARK MOMENTS – UNDERWATER – Red Cloud – Ann Orfer
GRIMDARK – DRABBLES – Clash of the Tantrums – Ann Orfer
SHORT READS – The Elephant in the Room – Ann Orfer
Email Body:
In your email body, please include; the call, the theme (where one is noted), your story title, your pen name, word count, bio.
Email To:
Email to the address listed on the call.
Via: Black Hare Press.
About the Author
Latest Posts
Stuart Conover is a father, husband, published author, blogger, geek, entrepreneur, horror fanatic, and runs a few websites including Horror Tree!