Taking Submissions: Helios Quarterly Magazine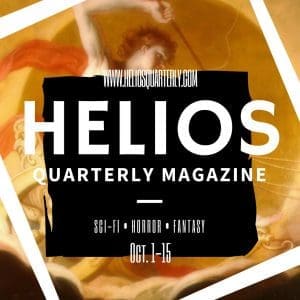 Deadline: June 15th, 2019
Payment: $0.06USD per word for fiction, .01 per word fiction reprints, $50 for poetry, $15 for poetry reprints.
SPECIAL CALL: Helios Quarterly turns 5 in 2020! Over the years, we've published less horror than science fiction & fantasy. And, we haven't published as many BIPOC (Black, Indigenous & People of Color) as we would have liked. We want to change that. For our upcoming call for submissions, we're especially interested in horror short stories and poetry by Black, Indigenous, and other poets and authors of color.
Helios Quarterly Magazine is a quarterly periodical of horror, science fiction, and fantasy published in March, June, September, and December. We accept unsolicited submissions from JUNE 1-15 11:59 EST every year. Anything submitted outside of this window will be deleted unread.
SUBMIT
Format using Shunn's manuscript style. Track your submission using Duotrope, The Submission Grinder, and Ralan. Submit via HeyPublisher.
A short cover letter is required submitted alongside the text of your submission. Please include your legal name, pen name (if relevant), contact information, PayPal email address (if different), recent publications/awards (if any), preferred contributor's copy (.epub or .mobi for Kindle™), and a third person bio of 50-150 words. A photo is optional.
We take 2-3 weeks to respond to submissions. If you haven't received a response by then, please query. Email submissions are deleted unread. If you have any questions, email subs [at] heliosquarterly.com.
POETRY: Any length paid $50USD per poem.
FICTION: 100-17,500 words paid $0.06USD per word.
REPRINTS: Any length of poetry paid $15USD and 100-17,500 words of fiction paid $0.01USD per word.
RULES
Translations are accepted
Simultaneous submissions to other markets are accepted
Only submit one submission in each category (one short story, one poem, one reprinted short story, and one reprinted poem per person)
RIGHTS
Copyright remains with the author and poet at all times
Non-exclusive archival rights as long as the website(s) hosting the work are online
First world electronic and print rights in English with exclusivity for 6 months from the date of publication
If selected to be republished in an anthology in the future, payment in royalties is $0.01USD per word
If selected for a podcast or audiobook, payment is $0.01USD per word for non-exclusive electronic audio rights
HARD SALES
Excerpts out of a novel
Poorly formatted and edited work
Overtly racist, sexist, or violent work
ABSOLUTE NO
Fanfiction of any kind
Works above the word count
Taboo elements (rape in all forms, incest, pedophilia, etc.) in almost all cases
OF INTEREST 
People of Color, disabled people, women, LGBTQIA, and other marginalized groups at the forefront
Dieselpunk, Solarpunk, Arcanepunk, Weird Westerns, Cyberpunk, Magic Realism, Gothic Romance, Retrofuturism, Afrofuturism, Cli-Fi and other lesser-known sub-genres
Via: Helios Quarterly Submissions.