Taking Submissions: Heavy Metal Nightmares Anthology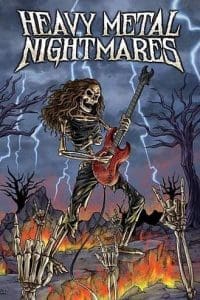 Deadline: December 31st, 2022
Payment: Writers based in the UK – Payment will be 20GBP regardless of story length, and a print copy of the anthology after the release date. Writers based elsewhere – Payment will be the equivalent of 25GBP.
Theme: Short stories that combine metal music and horror
The strong link between heavy music and horror has been well documented.  From the dark and often grotesque imagery used on album covers to the aggressive and visceral attitude the music genre produces.  Take a look at the artwork on the cover of most Cannibal Corpse albums or Iron Maiden's monstrous mascot, Eddie.  The 1986 horror movie 'Trick or Treat' starred Gene Simmons and the prince of darkness himself, Ozzy Osbourne, and, speaking of Black Sabbath, how many more metal bands have taken their names from horror movies?
What we want:
For our debut anthology, 'Heavy Metal Nightmares', we are looking for original short stories, from 2K words to 7K words max, that combine metal music and horror.  As long as the heavy music theme is used, let your imagination do the rest.
Works slightly under 2K words or slightly over 7K words may still be considered.
We require five months exclusive print and digital rights and you will retain copyright ownership of your works.
What we don't want:
We won't accept reprints or simultaneous submissions.
We don't want stories about established bands or real people; it needs to be fully fictional, although mentioning band names here and there in your story is acceptable.
We don't want to read anything detailing animal cruelty, harm to children, gratuitous sex or any sort of prejudice.
We won't accept flash fiction or poetry.
Format:
The anthology will be released in paperback print and ebook formats and sold via Amazon.
How to submit:
Send your manuscript as an attachment to [email protected]
Please note that you have read and understood the guidelines here and include confirmation in the body of the email.  In the header, please include: 'Heavy Metal Nightmares short story submission' and the title of your story.
Your manuscript must be in DOC, DOCx, or RTF format.
12 pt Times New Roman or Courier.
No headers or footers on the manuscript.
Double spaced.
If successful you will be expected to work with an editor and be prepared to make changes to your story if requested.
On the first page, please include:
Your real name,
Your pen name,
The story title,
Approx. word count,
Your email address,
A short bio to include in the anthology if successful.
Payment:
Writers based in the UK – Payment will be 20GBP regardless of story length, and a print copy of the anthology after the release date.
Writers based elsewhere – Payment will be the equivalent of 25GBP.
Payment will be made via Paypal only so please ensure you have a Paypal account in order to receive payment.
Please do not send your Paypal details until asked.
Deadline:
31st December 2022.
We're looking at a release date of 1st March 2023 although this may be pushed back to allow additional reading time depending on the volume of submissions we receive.
About Phobica Books:
This will be our first publication.  We've had the idea for this project for some time and if 'Heavy Metal Nightmares' is successful we will continue to publish horror anthologies and novelette length books in print and digital formats.
About the Author
Latest Posts
Stuart Conover is a father, husband, published author, blogger, geek, entrepreneur, horror fanatic, and runs a few websites including Horror Tree!