Taking Submissions: Floppy Shoes Apocalypse III: Cream Pie Facials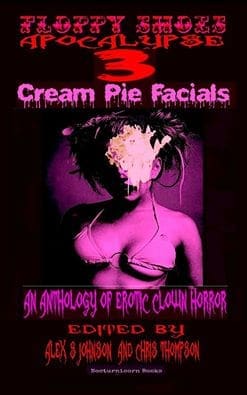 Deadline: October 1st, 2016
Payment: Royalty Split
Floppy Shoes Apocalypse III: Cream Pie Facials An Anthology of Erotic Clown Horror from Nocturnicorn Books. Edited by Alex S. Johnson and Chris Thompson.
1. Subs are open now and close October 1st.
2. All submissions must be original and contain erotic, dark, viscous matter involving clowns. You need not include cream pies. You know where I'm going with this. Make it hot!
3. Any length for poetry.
4. Short stories 2-10k.
5. Please send all submissions as an attached word file only to [email protected] with the subject header YOUR NAME/YOUR STORY OR POEM/CREAM PIE FACIALS.
6. Contributors will receive a pdf copy of the print anthology, a straight royalty cut and my publisher's discount.
7. Taboos: absolutely no erotic/sexual material involving minor children. Rape is acceptable if presented in a non-prurient way.
About the Author
Latest Posts
Stuart Conover is a father, husband, published author, blogger, geek, entrepreneur, horror fanatic, and runs a few websites including Horror Tree!