Taking Submissions: Dreamforge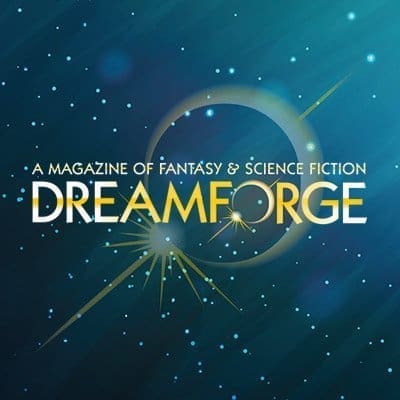 Deadline: October 31st, 2018
Payment: $0.06 and $0.08/word
DreamForge Magazine is now open for limited submissions.
We're a new and exciting magazine of Science Fiction and Fantasy. Our first issue is scheduled for publication in early 2019.
Limited Submissions? If you're reading this page, it's probably because:
We have sought you out in the hope you would consider submitting a story for one of our early issues.
One of our friends or contacts has passed this link on to you.
If, after you review what we're looking for, you know a writer whose work might be a good fit for us, please feel free to share a link to this page.
That said, we are not open to general submissions, so we ask that you not post this link to social media, your website, or otherwise generally broadcast. It will only lead to disappointment for us all.
An Overview of DreamForge Magazine
At DreamForge, our goal is to publish positive science and fantasy fiction. You can gain some sense of what we mean by this in reading our Rules of Fiction page.
While we agree there will always be new and often tremendous struggles for humankind to overcome, we do not subscribe to hopelessness or futility as a vision of the future or of any setting or situation.
DreamForge is about the triumph of reason and of humane-ity.
Submission Guidelines
To aid us in reviewing (and hopefully working with) your manuscript as efficiently as possible, it would help for you to read and follow our guidelines as presented here.
Once you have everything in order, submit an electronic file in Word DOC or RTF format to [email protected]
One submission at a time, please, but simultaneous submissions are OK.
Our Current Submission Deadline: October 31, 2018
Pick Your Sub-Genre and Have Fun
At DreamForge, we are eclectic readers, and we hope our audience shares our love of, well… freakin' everything.
Your story may take the shape of space opera, urban fantasy, military sf, magical realms, hard science fiction, sword & sorcery, time travel, cyberpunk, steampunk, hopepunk, and whatever else comes before punk.
A bit of light fare, including comedy is appreciated from time to time. We even have a soft spot for zombies and vampires. We'll occasionally consider some short poetry too.
In all our tales, we would prefer NOT to see the prevailing power structure portrayed as a corrupt police state. You might try contentious humans engaged in fierce debates over right and wrong instead.
Violence, profanity, and sex.
Tone it down. All are permissible to a degree, yet any instance must be integral to the story in such a way that removing the element truly diminishes the effectiveness of the story.
At DreamForge, we are neither prudes nor are we overly offended by colorful language. That said, we have an explicit mission with this magazine to elevate the artful and the humane. Actually, if you're going to show violence, we'd prefer realistic violence, the kind that hurts people; because that's what violence does. No form of adult content will be accepted.
Word Counts:
We're looking for works in the following word lengths:
Flash Fiction: 600 – 1000 words
Short Stories: 3,500 – 7,500 words
Novelettes: 7,500 – 12,000 words
Keep in mind that we can accept very few novelettes and pieces of flash fiction. We are looking mainly for short stories, and short stories under 6,000 words are preferred.
Submission Formatting
Top Left of First Page:
First and Last Name
Mailing Address
Phone Number
Email Address
Date
Word Count
Formatting:
Font: Arial, Size 12
Indented paragraphs (no extra line break between paragraphs)
Section breaks, as needed, should be three ### symbols, centered on the page.
Turn off curly quotes if possible; straight quotes are preferred.
In the document Header, include Last Name/ Title/Page #
After your Name, Address, and Identifying information, center the Story Title and, beneath that include your byline.
If using a pseudonym, place it in the byline, with your legal name for identification in the top left of the first page.
In your email or as a cover page, tell us a bit about yourself and your story. What excites you about your story; what do you think makes it worth reading?
Inclusion Policy
We have an inclusion policy. You can read more about it on our Policy page. Basically, we would like to see story submissions from anyone and everyone who believes we can build a better future together.
Payment and Contracts
Payment rate varies between $0.06 and $0.08/word, depending on word length, quality of story (subjective to us), and professionalism in manuscript preparation.
Our contract is based on the model provided by the Science Fiction Writers of America (SFWA). A copy of our contract language is available upon request.
Contract terms are negotiable within reason (subjective to us).
Payment is on Acceptance
Once we agree on a contract and have it signed by both parties, you can expect payment within 60 days. Most of the time, it should be much faster than that.
If we think of anything else, we'll let you know. Of course, we just hope from the start that your ideas and craftsmanship reach a level we haven't even thought possible. We believe in you. Let's do this!
Via: Dream Forge Magazine.
About the Author
Latest Posts
Stuart Conover is a father, husband, published author, blogger, geek, entrepreneur, horror fanatic, and runs a few websites including Horror Tree!