Taking Submissions: Deep Cuts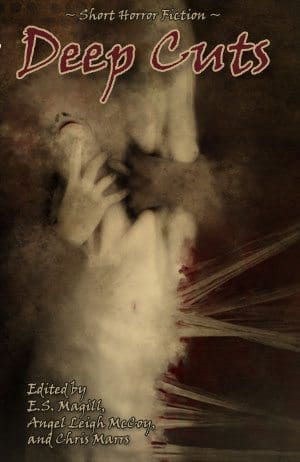 Deadline: August 31, 2012
Payment: $0.05/word and royalty split
Edited by E.S. Magill, Angel Leigh McCoy, and Chris Marrs (see bios, below)
Deep Cuts: (1) songs on an album that do not get commercial air time. (2) great songs that get overshadowed by an album's hits.
Like the "deep cuts" on an album, there's good stuff out there, stuff worth digging up and having another go at. In honor of Women in Horror Month, we invite you to tell us about a deep cut written by a woman writer.
We want to give horror lovers (male and female alike) the opportunity to recommend powerhouse tales written by women, those bloody stylings and chainsaw rhythms that have lain hidden like deadly gems among other great works.
Recommend a woman writer's horror story that you believe may have been overlooked by the general public, along with your own submission. Choose well, because if we publish your story, we'll also publish your recommendation.
Join us as we knock the needle over a few grooves to find and recommend those deep cuts cranked up to 11 by women horror writers.
Warning: Cuts May Be Deeper Than They Appear
Submission Guidelines
This will be a horror anthology. We do not want splatterpunk, urban fantasy, or supernatural romance. We will choose stories that do or don't contain supernatural elements, but all the stories we choose will obviously have been written with the intent to make the reader uneasy with the lights off.
Anyone can submit, man or woman, so long as they're over 18.
In addition to the short story submission, each submitter is asked to write up to 150 words honoring a short story by a female horror writer, telling why the story means so much to them and where it was published. This short piece will be included in the anthology along with the chosen story.
DEADLINE: August 31, 2012
IMPORTANT:
Include: a 150-word (max) statement honoring a short horror story written by a woman that moved you or influenced your own writing. We will take this statement into consideration when gauging whether your story will fit in our anthology.
Include: your own short story submission and a cover letter with your name, address, and email address.
Name your file so that it makes sense. An impressive filename for a fiction submission is: (lastname)-(word from title).RTF [like this: mccoy-darkness.rtf]
Story word count: 1000 – 5000 (Query for longer works).
Use standard manuscript formatting.
No simultaneous submissions to other publishers.
No multiple submissions. We want to see only your one best story.
Story must be horror.
Gore, sex, and adult language welcome, but make sure it improves the story.
Use good grammar, double-check the punctuation, and do a spell-check. We prefer Chicago Manual of Style rules, and we will reject a story if it's a mess, even if it's an amazing story.
We will accept reprints. Make double sure the rights have reverted to you. By submitting it to us, you affirm that the story is your work and that it is free from any commitments that will conflict with the rights you give us.
We reserve the right to change these guidelines without notice.
THEME: horror
PAY: $0.05/word and royalty split
REPRINTS: yes.
RIGHTS: With this payment, we're buying the worldwide rights (exclusive for two years) to publish your story in print, audio, and digital formats, and to use portions of it and your name to market the anthology. You will be asked to sign a contract.
PUBLICATION GOAL: February 2013
Response Time: We will respond within 90 days after the final deadline.
Use the SUBMIT button below to submit your entry via our automated system.
Direct any questions you have to [email protected] .
EDITORS:
E.S. Magill likes to wear the two hats of writer and editor. She is the editor of THE HAUNTED MANSION PROJECT: YEAR ONE, an anthology of essays and short stories based on the experiences of a dozen horror writers who attended a writers retreat at a haunted mansion. She is also the former reviews editor and columnist for Dark Wisdom magazine. Her most current short fiction can be found in the Horror Writers Association's anthology BLOOD LITE III. She has an M.A. in English, specializing in the postmodern gothic. By day, she teaches middle school English; night is a whole other story. Southern California is home to her and her husband Greg and their menagerie of cats and Corvettes. Friend her onFacebook.
Angel Leigh McCoy is the producer and lead editor at WilyWriters.com, a professional speculative fiction e-zine. She also writes, and her fiction has appeared in numerous places. During the day, she is a narrative designer at ArenaNet, part of a vast team effort to make the coolest MMORPG ever: Guild Wars 2. Angel lives with Boo, Simon, and Lapis Lazuli in Seattle, where the long, dark winters feed her penchant for all things spooky and cozy.
Chris Marrs lives on the West Coast of British Columbia, has two kids, two jobs, and two cats. Before the kids took over, Chris used to write a lot and had two stories published. Now that the kids are older, Chris is back to writing a lot, usually very late into the night and accompanied by copious amounts of coffee. In the past year, Chris has had three pieces of flash fiction published and one short story. Chris is a supporting member of the HWA.
[via: Deep Cuts.]
About the Author
Latest Posts
Stuart Conover is a father, husband, published author, blogger, geek, entrepreneur, horror fanatic, and runs a few websites including Horror Tree!