Taking Submissions: Corporate Cthulhu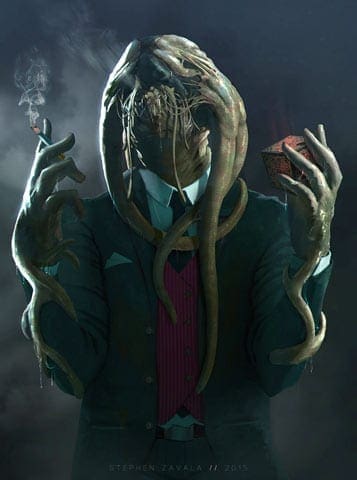 Deadline: June 1st, 2017
Payment: $0.03 cents per word
WE NEED TEN TALES OF HIERARCHY HELL
AND BUREAUCRATIC NIGHTMARE!
Of all bureaucracies, corporations are the most powerful, seeming to have a life and will of their own.  They're privately held with a multi-national reach, seemingly bottomless resources, and armies of lawyers jealously guarding their trade secrets.  Anything and everything is justified by the bottom line.  Who needs a Cthulhu Cult when you've got Cthulhu, Inc.?
Into this insidious world are thrust our heroes—the curious, the puzzled, and the frustrated.  Defying authority, seeking answers they'd be better off not knowing, the secrets they discover threaten their sanity and their lives.  Will they become the next whistleblower media hero?  Or disappear, leaving nothing behind but an empty desk and whispered rumors in the break room?  Remember: it's nothing personal—just business.
Corporate Cthulhu is a Lovecraftian horror anthology about the intersection of the Cthulhu Mythos and corporations or other large bureaucracies.
This is an OPEN call for submissions—anyone and everyone is free to submit a short story to the slush pile.  Feel free to share this with other writers you think might be interested.
What We're Looking For
•    Short stories up to 7000 words.
•    Original, previously unpublished fiction.
•    We're particularly interested in submissions from writers traditionally underrepresented in sci-fi, fantasy, and horror fiction.  This includes racial, ethnic, and religious minorities, women, LGBTQ+ individuals, and people living with disabilities.
•    Stories must include at least a passing connection to the Cthulhu Mythos and/or Lovecraft's other work.  The stronger the connection, the more likely the story is to be accepted.
•    Stories that make skillful use of Lovecraftian horror themes: insanity, helplessness and hopelessness, inherited guilt, old isolated locations, books of forbidden knowledge, ancient extraterrestrial influences on humanity, the risks of runaway science, civilization vs. barbarism, humanity's insignificance on the cosmic scale of space and time, unanswered questions about what lurks behind the curtain of reality, etc.
•    Although we're expecting a lot of stories where management is a cult in disguise (and that's fine!), we encourage writers to think outside the box.  Other elements of the business cycle include labor (a union strikes over a bizarre demand) and customers (how far will a struggling company go to meet their biggest customer's increasingly strange requests?).
•    Although the primary focus is on corporate bureaucracies, ANY large private-sector bureaucracy is fair game. This could include (among others) charities, nonprofits, NGOs, private universities, for-profit hospitals, labor unions, large churches, fraternal organizations, youth groups, etc.
•    Stories set in any time period during the modern industrial capitalist era (roughly 1800 on up).  Query first for stories set in other time periods.
•    Comedies, parodies, and/or satires are acceptable.
What We're NOT Looking For
•    Romances or erotica.
•    Stories under 2000 words or over 7000 words.
•    Stories taking place in governmental or other public-sector bureaucracies.  As much fun as it may be to have Cthulhu running the IRS, save those ideas for a later Political Cthulhu anthology.
Payment
If selected, authors will receive $0.03 cents per word for original, previously unpublished fiction.  Original fiction strongly preferred; query first for reprints.  In the unlikely event that we do accept a reprint, payment will be $0.01 cent per word.  Publication is dependent on a successful Kickstarter campaign to fund the project.  There will be no kill fees.
Rights
Exclusive global English first print and digital rights for one year, and nonexclusive print and digital rights for term of copyright.  All other rights are reserved to the author.
Submitting
Stories should follow the format laid out in the submission guidelines; if not, it may be automatically rejected.  Submissions should be emailed to [email protected] with the story included as an attachment in .doc, .docx, or .rtf format, and must be received no later than midnight, Central Standard Time, June 1st, 2017.  The email subject should read [Submissions: Story Title by Author Name].  If accepted, minor edits and revisions may be requested.  The Kickstarter campaign will begin after the stories have been selected.
Via: Pickman Press.
About the Author
Latest Posts
Stuart Conover is a father, husband, published author, blogger, geek, entrepreneur, horror fanatic, and runs a few websites including Horror Tree!