Taking Submissions: Clockwork Wonderland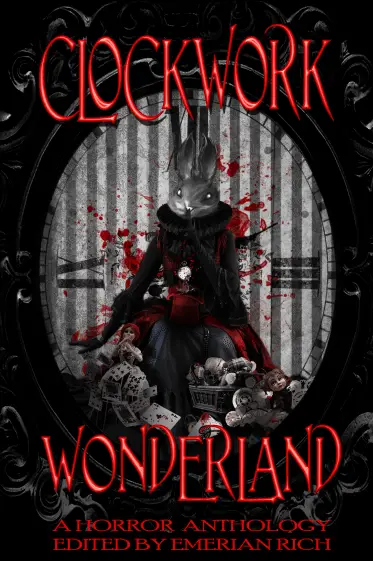 Deadline: October 31st, 2016
Payment: $10 and digital copy
Following the rabbit down the hole is the easy part. Battling time is what will kill you. Whether you're trying to get back home or struggling to survive in Wonderland, your stories MUST be horrifying.
"You act as if time is on your side. He isn't. He's always on his own side."
At the most basic, your story must have a clock involved. Clockpunk, clock engineering, and steampunk with clock elements is encouraged as well as the thought of time as an entity. Be creative, turn Wonderland on its ear. Twist it, tweak it, punk it.
Your story may star or co-star any of the characters in the original text by Lewis Carroll, as well as characters of your own creation. Feel free to "punk" any of the characters to fit your vision, but do not use any characters from other modern day Wonderland series.
A word from the editor: I don't care how well your story is written, if it's not scary, or horrifying, it won't make the cut. We are HorrorAddicts.net. Bring the horror.
Manuscript Format:
Font: either Courier or Times New Roman.
Double spaced, font 12 point.
Your manuscript must be in either DOC or RTF format.
1st page header to state: author name, mailing address, email address, and word count.
Following pages header to state: author name, story name, and page number.
In the body of the email:
100 words or less bio about you.
One sentence explaining the story attached. Your elevator pitch.
Facebook, Twitter, Instagram ids
Your website or blog
Subject of the email state:
CLOCKWORK WONDERLAND/Author Name/Story Title
Send to: [email protected]
No previously printed work and no simultaneous submissions.
Deadline: October 31st, 2016, 11:59pm PST
Length: 2,000-5,000 words
Payment: $10.00 USD + digital contributor copy
Return time: Final decisions will not be made until AFTER the submission close date (10/31/16). You should expect a return within 3 months of the submission close date.
If you do not receive an email stating your manuscript was received within two weeks of submission, please send a polite query to:[email protected]
For any other questions, please send an email to: [email protected]
Via: Horror Addicts.
About the Author
Latest Posts
Stuart Conover is a father, husband, published author, blogger, geek, entrepreneur, horror fanatic, and runs a few websites including Horror Tree!