Taking Submissions: Chiral Mad 4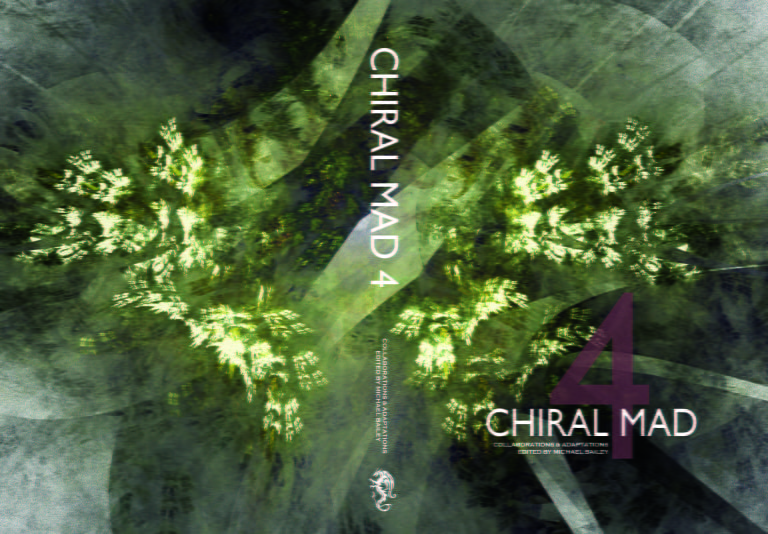 Deadline: May 31st, 2017.
Payment: 5 cents per word
Chiral Mad 4 is officially open for submissions! The anthology is scheduled for publication in the first or second quarter of 2018 by Written Backwards, an imprint of Dark Regions Press, to be edited by Bram Stoker Award winning editor Michael Bailey. Much like Chiral Mad 3 and The Library of the Dead, this latest installment will be published in trade paperback, eBook, and deluxe hardback editions.
Unlike past Written Backwards projects, this fourth volume in the critically-acclaimed series of anthologies will be a completely collaborative effort of originality, collecting 4 short stories, 4 novelettes, 4 novellas, and 4 graphic adaptations (to celebrate this 4th book), all co-authored and/or co-created. The anthology itself may even possibly be co-edited. We're also seeking individuals willing to write a co-introduction for the book. Email [email protected] if interested in either of these opportunities.
The goal of Chiral Mad 4 is to help bring our creative community together, to make us stronger, to strengthen relationships already in place, and to help create new relationships entirely. It's time for all of us to play nice, to get along, and to do what we do best: create somethings out of nothings… and we're going to create these beautiful somethings together. Have a specific writer/artist you've always admired? Well, now's your chance. Reach out. Ask! That's all it takes to get started. Find a partner, or two, or three, and start collaborating! The more unique the collaboration, the better the chances you have of making it into Chiral Mad 4. The more diverse the collaborations, the better the chances you have of making it into Chiral Mad 4. Now, here's the hard part: knowing whether or not someone is already collaborating… Email C[email protected] if you have any questions or concerns about this.
While half the anthology will be filled with commissioned works (the book is nearly half-filled already, with a few of the early acceptances announced below), the rest of the anthology is open for submissions for a short period of time. The submission window for non-commissioned contributors closes May 31st, 2017. So get to it! This is a very short window of opportunity.
What are we looking for?
4 short stories (5,000 words max)
4 novelettes (10,000 words max)
4 novellas (20,000 words max)
4 graphic adaptations (1,500 words max, or 10 pages)
Payment will be $.05 per word, capped at the max word counts listed above, split evenly between contributors. Two contributors writing a 5,000-word short story, for example, would split $250, or $125 each. Contributors writing a 10,000-word novelette would evenly split $500. Contributors writing a 20,000-word novella would evenly split $1,000. Graphic adaptations will be determined by the publisher/creator prior to acceptance; these are unique collaborations and payments for such are not as simple to calculate. In fact, 3 of the 4 slots for graphic adaptations are already filled, so please query [email protected] before submitting. And, as always, contributor copies of each edition are part of the deal.
That said, the first acceptances for Chiral Mad 4 include the following:
Elizabeth Massie & Marge Simon have joined forces with a new short story called "The Substance of Belief" or "At the Crest of the Mountain."
Darren Speegle and Gene O'Neill have collaborated on a new novella called "Fifteen Lifetimes, Plus a Lifetime More."
Glenn Chadbourne and Jack Ketchum have been commissioned to adapt "Firedance."
James Chambers, Jason Whitley, and Christopher Mills have collaborated on "The Ghost of the Bayout Piténn," a sample of which is pictured above.
Other commissioned works include a novelette co-authored by a foursome of writers, and even a collaboration between a contemporary writer and a writer no longer with us.
So, hopefully all of this gets you excited, gets you eager to reach out to others in our creative community. Chiral Mad 4 is the most ambitious project ever imagined by Written Backwards. Please, be a part of it.
Via: Written Backwards.
About the Author
Latest Posts
Stuart Conover is a father, husband, published author, blogger, geek, entrepreneur, horror fanatic, and runs a few websites including Horror Tree!