Taking Submissions: Broken Metropolis Anthology: Queer Tales of a City That Never Was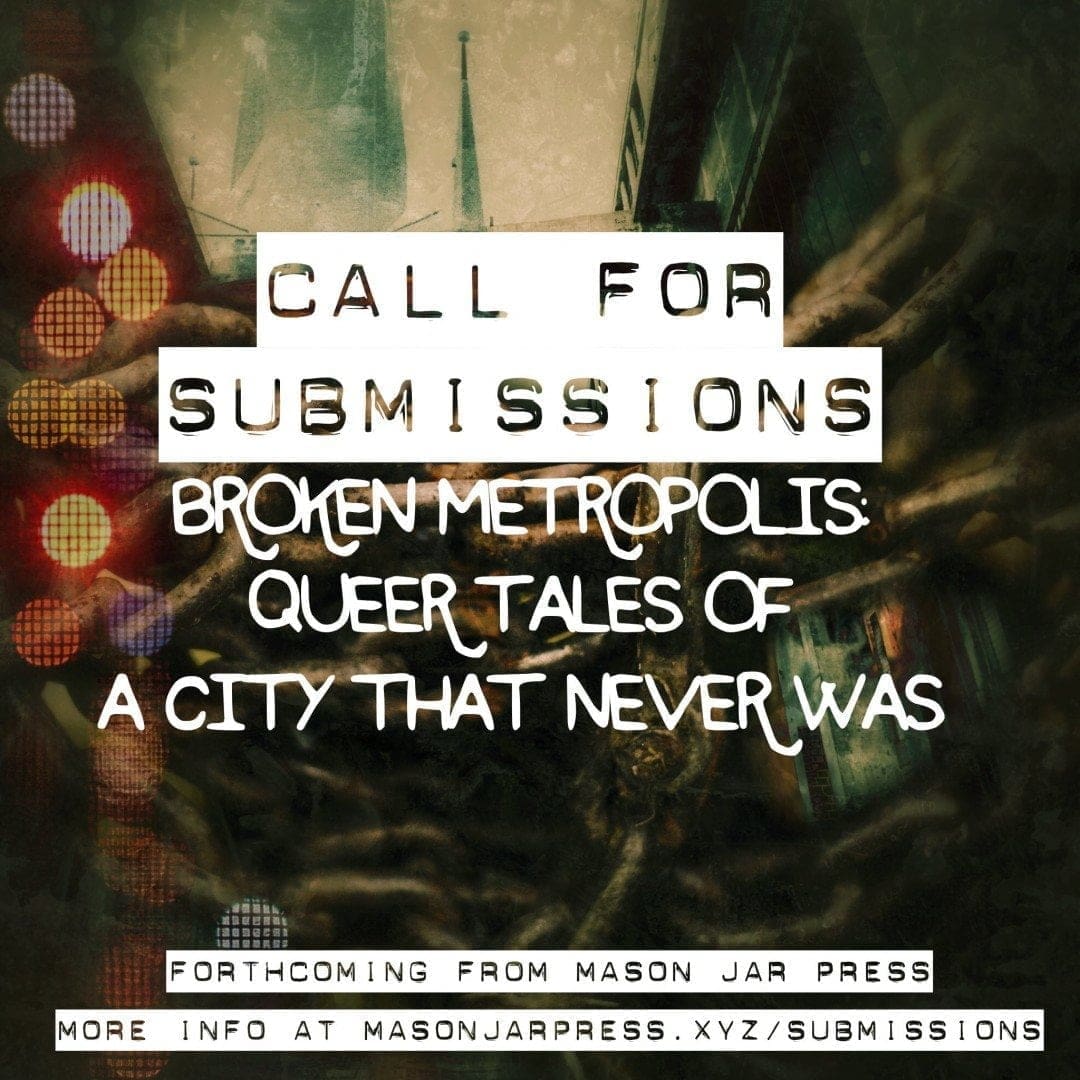 Deadline: December 7th, 2017
Payment: Under 1k words: $10, 1k-6k words: $25. Both also come with a contributor's copy
SUBMITTING
Stories should be in standard manuscript format, i.e. double spaced, in a reasonable 12-point font. The editor has a fondness for Georgia. The story title, word count, and contact information should appear on the first page, and your last name, story title, and page number should appear in the header information of all other pages.
We will be reviewing submissions on a rolling basis until the anthology is filled. Acceptances will be notified within 60 days. Feel free to query after that.
WORD COUNT
We're looking for stories under 6,000 words. 3-4,000 words is probably the sweet spot.
REPRINTS
We will not be accepting previously published work for this anthology.
THE CONCEPT
Metropolitan tales of city-focused fantasy with queer perspectives. Squalid flats, glittering spires, and alchemical trolleys. Manipulative heirs, handsome swordswomen and noble automatons. Write us something built with borrowed Bordertown DNA, purloined echoes of House Tremontaine society and stolen grit from the dark of London Below. Be inspired by Dhalgren by Samuel R. Delany, China Mieville's Perdido Street Station, or "The City Born Great" by N.K. Jemisin.
WHAT WE WANT TO SEE
We are looking for stories that explore the edges of urban fantasy through queer stories. While the city these stories are set in should be vast and unnamed, highly specific neighborhoods and landmarks are encouraged and sought after. We welcome a broad interpretation of the genre that is inclusive of postmodern folk tales, future/ancient noir, and stories that happen both behind closed doors and in plain sight. Throughout, we're looking for rich, varied and nuanced understandings of gender, family and ethnicity.
Please remember not to self-reject!
WHAT WE DON'T WANT TO SEE
Please no werewolf/vampire/dragon/elf stories unless you've really deconstructed the genre tropes. No spandex. We're not interested in unexamined bigotry or sexual violence; pieces that include such should really be looking at the post-event experience of the survivors. Other genre elements from horror, science fiction or erotica are welcome in reasonable doses.
RIGHTS
We are seeking twelve months of exclusive worldwide print and electronic distribution rights and non-exclusive worldwide print and electronic distribution rights in perpetuity. Exceptions can be made for published stories that are then chosen for a "best of the year" anthology, etc.
PAYMENT
Accepted stories of 1,000-6,000 words earn a onetime fee of $25 plus a contributor's copy for the original terms of the contract. Accepted stories of less than 1,000 words earn a onetime fee of $10 plus a contributor's copy for the original terms of the contract. Payment is within 90 days of publication.
EXPECTED PUBLICATION
We expect to publish this anthology in late July 2018.
Via: Mason Jar Press's Submittable.
About the Author
Latest Posts
Stuart Conover is a father, husband, published author, blogger, geek, entrepreneur, horror fanatic, and runs a few websites including Horror Tree!