Taking Submissions: Blood for You: A Literary Tribute To GG Allin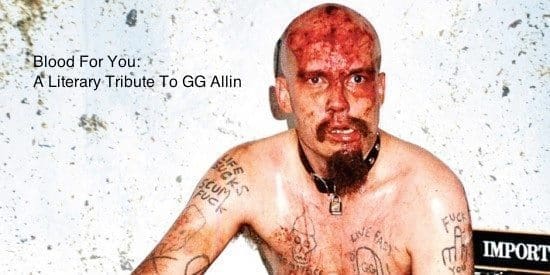 Deadline: March 1st 2015
Payment: 1 cent per word.
Remember when GG Allin was kidnapped by aliens as a child and gang raped for twenty years before being returned to the exact point in time he had been stolen from? Or how about when he was playing a Boston dive bar with the Jabbers and he started growing penises out of his chest? Perhaps you've heard about when he took a dump on stage and the janitor of the club kept all of the excrement and now sells it online in vials for a hundred bucks each so scumfucs can buy it and inject it? Surely you know the story of how, just weeks after being released from prison, GG Allin fought off a pack of crazy weredogs with his bare hands?
What do you mean you haven't heard any of these classic GG Allin tales? Maybe you've heard weirder ones? Write them now!
The Highest Power will be a collection of screwed up, fictional GG Allin stories edited by MP Johnson and Sam Richard, to be published in Summer of 2015. Publisher TBD.
Your stories are needed! The weirder the better. Bizarro GG Allin. Splatterpunk GG Allin. Fill them with blood and rock and roll. All eras of GG Allin must be represented in this book. From young crossdressing GG Allin to post-prison shaved and goateed GG Allin – and beyond. Don't forget about the full cast of characters, including Merle Allin and the Murder Junkies and GG's mom.
The stranger the story, the better the chance of acceptance. For example, a story in which early 80s GG goes out in drag and accepts an offer to give some guy a oral for $50, but instead bites the guy's dick off, only to have the severed dick haunt him for years to come, is going to have a better chance than GG fighting werewolves.
That being said, the book is probably going to need one – and only one – zombie GG story. If you are thinking about submitting such a story, your best bet is to send a pitch first. Actually, feel free to pitch any short story before you get into the writing. That way you can be sure that nobody else is working with a similar era GG or has a similar idea and increase your chances of acceptance.
Pay: 1 cent per word.
Length: Up to 5000 words. 3000 words is the sweet spot. Aim for it.
Deadline is March 2015 or when filled. Responses sent soon after.
Send submissions as attached .doc, .docx or .rtf to GGAllinTributeBook@yahoo.com.
Like the Facebook page for more info and updates: https://www.facebook.com/GGAllinTributeBook.
Via: Freak Tension.
About the Author
Latest Posts
Kerry G.S. Lipp is a wannabe writer working hard to drop the wanna be part. He teaches English at a community college by evening and works as a civilian on a military base by night, and usually sleeps during the day. He's not a big fan of the sun. His stories are currently available in the anthologies Lucha Gore and Under The Knife and several more will follow in 2013. His parents have started reading his stories and it appears that he is now out of the will. Follow him on Twitter @kerrylipp. You can read his short 'Smoke' at SNM Magazine.