Taking Submissions: Bleed Error Fall 2022 Issue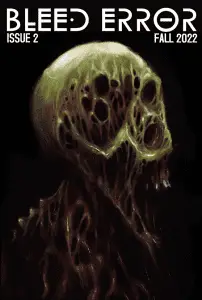 Deadline: September 1st, 2022
Payment: (CAD) 1c per word, and $15 per poem
Theme: General Horror
What are we looking for?
We're looking for predominantly horror short stories, flash fiction, and poetry, but they can run the gamut of everything from absurdism to bizarre (and terrifying) science-fiction to unsettling dark fantasy. We love the uncanny; what we look for is the telling drop in your stomach when you absently look up at the skies and there are far more constellations than you'd remembered, brighter and closer and in configurations you don't quite recall. We want stories about the bleed error of the universe printing outside the margins of reality.
We are interested in stories with LGBTQ2S+ and diverse leads, especially with narratives that are not confined to tragedy tropes.
• What do we not want?
Please don't send us anything bigoted or hateful, we'd all be wasting our time. At this point we're not seeking photography or art.
We do not take reprints, including translations. Previously published works on personal websites (including sites such as Wattpad, Medium, etc) count as reprints.
Please note that you must be eighteen years of age or above to submit your work.
• How much do we pay?
We pay 1c per word, and $15 per poem, regardless of length. All listed currency is in CAD.
• What about word limits?
We have a firm limit on stories not exceeding 7000 words. The ideal word count would be in the 2000-4000 range for short stories. We prefer poetry to not exceed 1500 words.
• How do you submit?
You can submit via e-mail to [email protected]. Please send us works in .doc, .docx, or .rtf formats. We recommend including your name and contact information in the file.
Please note that our submissions e-mail address has been recently changed in order to account for storage space.
SUBMISSIONS CLOSE ON SEPTEMBER 1st, 2022.
We are fine with multiple submissions, but please include them all in the same e-mail (as separate attachments) instead of sending us multiple e-mails. We also ask that you refrain from simultaneous submissions to other publishers, as that complicates our schedule in the case of withdrawal or simultaneous printing.
Please do not resubmit your stories for a second chance. If we rejected it the first time around we'll most likely reject it the second time as well.
• What rights do we own to your work?
As the author, you grant Paradox Ghost Press first publishing rights, and other non-exclusive rights pertaining to promotional material. You retain all other rights. We may contact you for reprints in future anthologies.
If you have any further questions, please email [email protected] with QUERY in the subject line. Submissions sent to this email will not be entertained.
Via: Paradox Ghost Press.
About the Author
Latest Posts
Stuart Conover is a father, husband, published author, blogger, geek, entrepreneur, horror fanatic, and runs a few websites including Horror Tree!