Taking Artwork: Split Skull Media Horror & Dark Art Calendar 2023!
October 31, 2022

-

November 1, 2022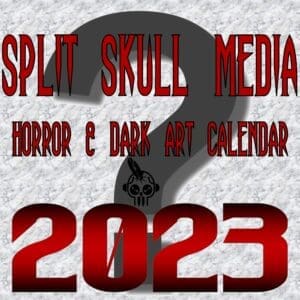 Deadline: October 31st, 2022
Payment: "Contributors Copy" (Copy of the calendar + a t-shirt)
Theme: Photographs must depict horror in any type of twisted, macabre, and evil images of dark artwork, soaked in whatever vile media you choose to delve into
Greetings Cadavers!
We are pleased to announce the 2023 Horror & Dark Art Calendar is underway! Last year's 2022 calendar was a killer success, and we were able to help float a couple of names out into the horror ether. For 2023, we are looking for much more bloodlust! Once again we are seeking photo submissions from all you independent horror artists to showcase your vile creations! There are some guidelines below that must be followed, and yes, a photograph release (a necessary document to keep everyone honest), has to be submitted. Other than that, if you have captured art in some evil form and you want to showcase it in our calendar (it's free by the way, no entry fee!), take a photograph (digital) and send it to us for consideration. We will wade through the rivers of blood to choose just the right ones. But there is more. If your photograph is chosen for a monthly wall, you will be awarded:
One free calendar
One free Split Skull Media T-Shirt
One free Death Certificate (yup, these are back, too!)
Photo credit and website listing
Huge bragging rights
If we use your photograph on/inside the grid (smaller photo):
Honorable mention on the calendar
Please understand that every entry cannot be a winner. These artworks are painstakingly viewed and reviewed. Choosing the right ones is difficult and we hold no biases. When the photos are finally chosen, we have become mere shadows of our former selves, slinking deep into our coffins in a whirlwind of self-inflicted madness… but we wouldn't have it any other way.
How to Enter:
Read all of the guidelines below
Complete Photo Release Form Here.
Submit artwork to: 

[email protected]
That's It! So, we are counting on you to bring us your macabre works of art. Make it your evil, scary, sexy, gory, twisted, vile, and horrific best. Thank you and GOOD LUCK, CADAVERS!!!
2023 Horror & Dark Art Calendar Photo Submission Guidelines
Thank you and welcome independent horror artists to the 2023 Horror & Dark Art Calendar photo submissions! We try to help indie horror artists gain more exposure, because as artists ourselves, we know how hard it is to get our work "out there". Please read and follow the guidelines below. Failure to do so will mean your photos won't even be looked at… and that would suck!
Deadline for submitting photos: October 13, 2022.
Entry Fee: none
You must be at least eighteen (18) years of age. By submitting to us, you verify this to be true and accurate.

A photo release MUST be completed. Entries without a photo release will not be considered. This is a necessary evil to keep all involved honest. This does NOT mean, in any way, that we will own your original artwork. Your artwork will continue being yours. We just want photos of it.  Click here to complete and submit.

Each photograph must contain some key information. Each image is filed and identified this way, including giving proper credit. Type this information in the body of the submission email for each photograph. Failure to provide this may result in your entry disappearing into the abyss. Double check your spelling!!!

Caption or Title of photo

Photographer's name

City and state where image was taken

Website (optional)

Photographs must depict horror in any type of twisted, macabre, and evil images of dark artwork, soaked in whatever vile media you choose to delve into, limited only by your imagination and creativity. Photographs may include, but certainly not limited to, sculptures, paintings, drawings, mixed media, famous horror graves (cemeteries), and locations in horror history, either fiction or non-fiction, but they must be your own photos. Fear is not an option, it is a must! But know this…

Absolutely NO images of minors, hate crimes, genuine acts of torture, animal torture, or illegal activities of any kind. This will NEVER be tolerated. You will be called out and immediately reported to the authorities. Just don't do it.

Eroticism and nudity are allowed, but they must add to the artwork, not just for nudity's sake.

Original Artworks Only – We all love the classic icons of horror such as Jason Voorhees, Freddy Krueger, Michael Myers, etc., but we are looking for photographs of your original works of art.

Selfies/Model Photos – will only be accepted if the subject AND the photographer are one and the same person. We aren't really accepting these images at this time, so they have to be extremely exceptional and well done. Just remember, they must be photographs dripping with horror. And, even then…

Book Covers Art – try to leave out any text if possible, such as titles or author names, unless it is part of the artwork. If that's not possible, it is not a problem. We just like to highlight this information on the calendar itself.

Photograph submissions must be clean and clear, at least 300 dpi, TIF or JPG format, with no time/date stamp. How you take them is based on your own creativity. You can submit a maximum of thirteen (13) digital images for consideration. All properly submitted images will be reviewed and considered for inclusion in the calendar.

Photos ABSOLUTELY MUST be the property of the entrant and may not have been previously published, WITHOUT EXCEPTION. Photographer agrees that any photos published in the calendar are their own and may be used in Split Skull Media promotional brochures, displays, websites, social media, products, activities, and materials in perpetuity. Photos will be cropped as needed for use and publication.

All published photos (except those in the calendar grid) will be accompanied by the photographer's name, photograph caption (title), city/state where the image was taken, and the photographer's website, as space allows. Photographers whose photographs are published on a monthly wall will be awarded the following:

One free calendar

One SSM t-shirt

one free death certificate

Photo credit and website listing

huge bragging rights

Photographers whose photographs appear on/inside the grid (smaller photo), will receive an honorable mention on the calendar.

Submitting Entries – Send each photo in a separate email, as an attachment, with "2023 SSM Calendar Entry", in the subject line to: 

[email protected]

.

Winners will be announced on October 31, 2022, online at SplitSkullMedia.com. All winning participants will be notified by email.

Don't forget to include the key information in the body of each email. GOOD LUCK, CADAVERS!!
Via: Split Skull Media.
About the Author
Latest Posts
Stuart Conover is a father, husband, published author, blogger, geek, entrepreneur, horror fanatic, and runs a few websites including Horror Tree!