Open-Form Writing Competition: When The Machine Arrived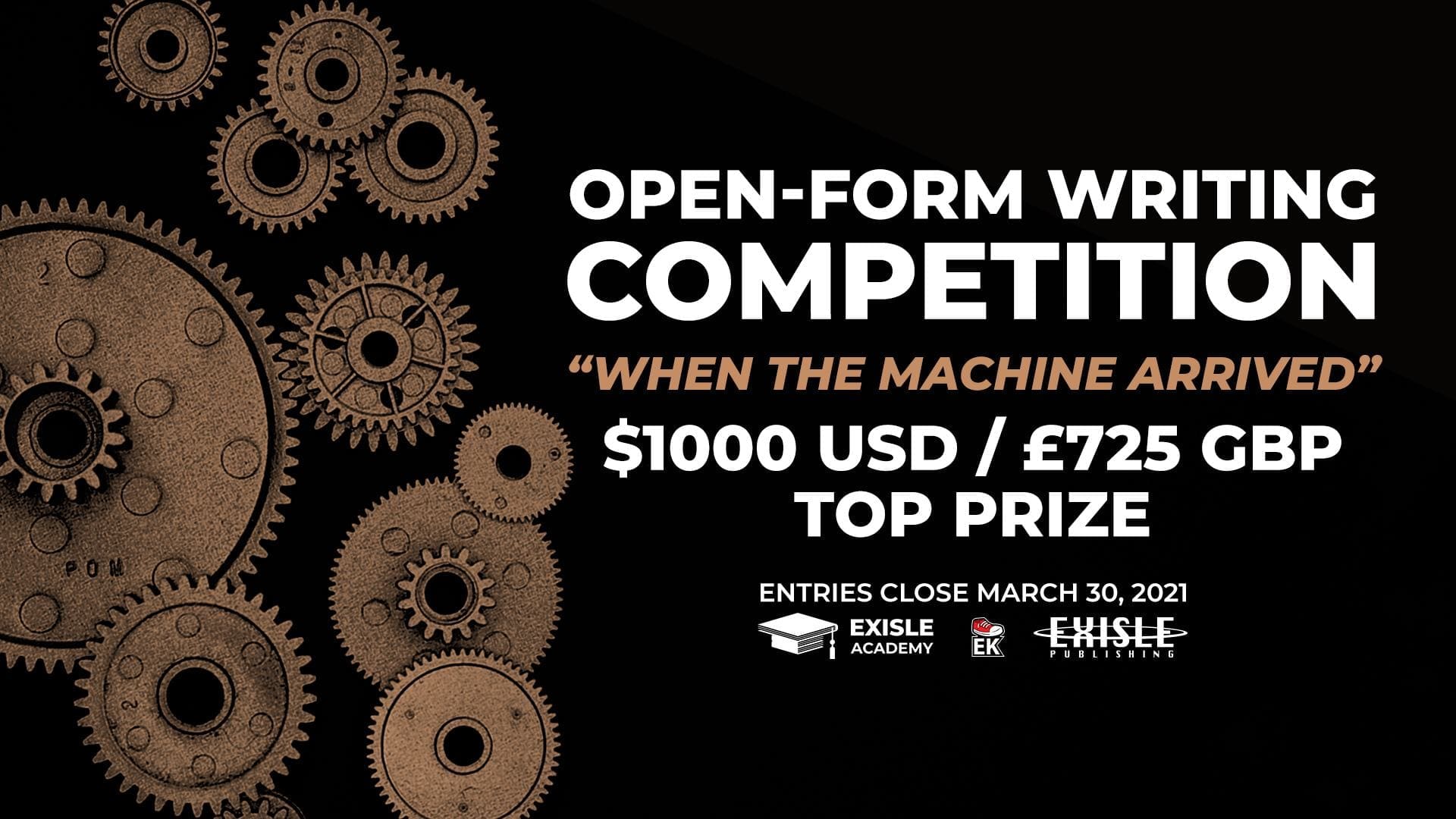 Deadline: March 30th, 2021
Prize: US $1000 or £725 GBP
Theme: When The Machine Arrived
Dear Writer,
Our first writing competition of 2021 explores the impact that technology has on our lives. The theme is "When the Machine Arrived" – you are free to interpret this in any way you see fit. You may choose to discuss the arrival of a new household appliance, explore a recent technological innovation, or discuss changes in how you work, study, or connect with others – it's up to you!
The format is up to you. You can write fiction, non-fiction, or even a text designed for children. However, you must not exceed the word limit of 1500 words (all entries that exceed this limit will be deleted). Please submit only your own unique work that has not been published anywhere else. Multiple entries are accepted, and writers from around the world are welcome to participate.

The judges will be looking for a clear and crisp interpretation of the Competition's' title and stimulating original work that is thought provoking and enjoyable. By way of example, what happened when your first toaster, television, hair curlers or computer arrived? Or you could see the machine as being an organization's apparatus or, of course, something completely different. That's up to your imagination and the experiences you can draw upon.
Entries will be evaluated by senior editors from Exisle Publishing and EK Books. The winning writer will be paid a monetary prize of US $1000 or £725 GBP. (One thousand US dollars or seven hundred and twenty five British pounds). The winner and up to three selected finalists will have their work published on ExisleAcademy.com.
Standard entry is free, however you may choose to pay for an "assessed entry" meaning that, regardless of the outcome of the competition, you will receive detailed and helpful feedback on your story from a competition judge (senior publishers at Exisle Publishing and EK Books). Both standard and assessed entries will be evaluated entirely on their merits.
Entries close on March 30, 2021. The winner and finalists will be announced late April.
Please select your preferred option below to continue:
Submit Your Writing to "When The Machine Arrived"
Standard Entry
Submit Your Writing to "When the Machine Arrived" Free of Charge
-> Chance at the US $1000 Prize
-> Have Your Work Read by Senior Publishing Editors
-> Your Work Will Be Evaluated On Its Merits, But You Will Not Receive Feedback Unless You Are Selected As The Winner
All entries will be assessed entirely on their merits. Detailed submission instructions will be provided on the next page when you select your preferred option above. We aim to provide feedback to all "Assessed" submissions in April, however if the volume of entry is exceptionally high this may stretch over to May for later entries. The earlier you submit your story, the earlier you will receive feedback.
By submitting a story, you confirm that it is your original work, you own the copyright, and you give Exisle Publishing permission to publish it on ExisleAcademy.com and any associated promotional items should you win or be selected as a finalist. You also confirm it has not previously been published elsewhere online or in print, nor selected for any other competition. Entry is open to writers from around the world, and subject to our Competition Terms & Conditions >>
Via: Exisle Academy.
About the Author
Latest Posts
Alyson lives in the UK; her fiction has been published widely in print anthologies – DeadCades, Women in Horror Annual 2, Trembling with Fear 1 &2, Coffin Bell Journal 1 and Stories from Stone and in ezines, most often on the Horror Tree site, Siren's Call and The Casket of Fictional Delights. In May 2019 Night of the Rider, was published by Demain, in their Short Sharp Shocks! E book series and reached the amazon kindle top 10 best seller lists. Her work has been read on podcasts (eg Ladies of Horror), shortlisted in competitions and published in charity anthologies. Future work will appear in anthologies from Things in the Well, Mortal Realm and Twisted Wing Publishers.
She performs at open mics, teaches, edits and hangs out with her dog on the moor in all weathers.
https://alysonfayewordpress.wordpress.com/
Twitter @AlysonFaye2