Mirror World Publishing Is Open To Novels And Novellas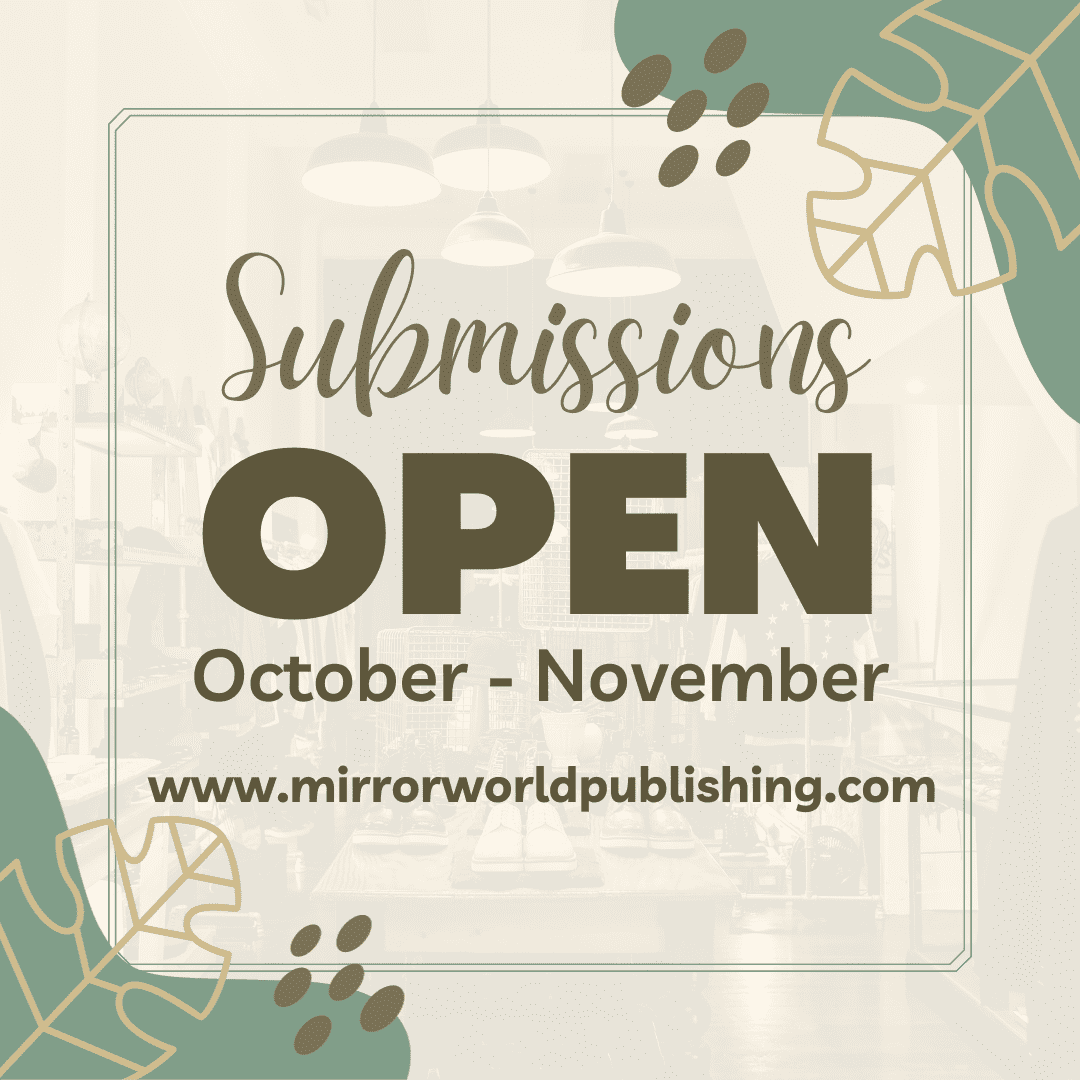 Deadline: November 30th, 2023
Payment: Royalties – 50% of net profits
Theme: Escapism Fiction
We accept submissions between October 1st and November 30th each year. See the information below to prepare for our upcoming submission season.
We're looking for Escapism Fiction
Our goal is to provide readers with the ability to escape the mundane through wildly creative fiction. We're looking for books that act as gateways to other worlds, times, or versions of reality. We prefer strong story telling, engaging openings, and compelling character development as well as imaginative settings, vivid world building, and interesting themes. If your manuscript transports a reader somewhere else, tells an engaging story and then brings them back feeling like they have experienced something unique, then we want to publish your book!​
Fantasy
Science-Fiction
Romance
LGBTQ themes and diverse stories
Adventure
Paranormal/Occult
Comedy
Historical
Portal Fiction
Speculative Fiction
A blend of any two or more of the above
Cross-genre, mixed genre, or things that don't fit genre norms
Note: We don't like to limit ourselves, so if you have something you think would fit with our current list of published works, please send it.
Please make sure your manuscript is the right fit for us
Adult, New Adult, Young Adult, Middle Grade, or Children's (please specify your target market in your query letter)
Novels (125,000 words maximum)
Novellas (25,000 words minimum)
Graphic novels, children's books, or illustrated mixed media (art included)
Things we are NOT looking for…
Non-fiction
Memoirs or autobiographies
Literary fiction
Self-help or inspirational fiction
Hard Sci-Fi or Military Sci-Fi
Horror / Thriller / Suspense / True crime / Mystery (elements of these are okay)
Christian or other religious fiction
Contemporary fiction / Contemporary romance
Poetry or short stories (on their own or in collections)
Translated works previously published in another country
Vampire, werewolf, or shifter stories (these are tough to market)
We are a small, independent, traditional-style publishing house
We partner with our authors to make the books we produce the best they can be and aim to market them together for maximum exposure. We're proud to be able to offer our books as both paperbacks and e-books. We offer higher royalties than the industry standard (50% of net profits), author copies at wholesale rate, and worldwide distribution. We respond to all queries we receive within six to eight weeks with a personal response, including suggestions on how to improve your manuscript even if it is not the right fit for us, so there is no need to send a follow-up inquiry. We accept simultaneous submissions and will review previously published works where the rights have reverted to the author.
We accept general submissions between October 1st and November 30th each year. Submissions received outside of this window will not be considered.
Ready to submit? Send the following to submissions[@]mirrorworldpublishing.com
A query letter (clearly stating the genre, word count, and target audience of your manuscript and whether or not it is a part of a series)
A one-page or less synopsis of the plot which includes the ending
The first three chapters or an equivalent sample (in the case of novellas and illustrated mixed media), attached as a .doc or .docx file
A sample of the art, if applicable
We look forward to reviewing your submission and we promise to provide
feedback within six to eight weeks.
It's October 1st and you know what that means! It's the start of Mirror World Publishing's submission season. From today until November 30th, 2023 we will be accepting and reviewing general submissions for novels and novellas looking for quality manuscripts that fit within our brand of escapism fiction. If you think this might describe the book you've written and you want us to review it and let you know what we think, head over to our submissions page on our website for detailed instructions on how to submit.
Some things to consider if you have a manuscript you'd like to send to us:
Does it meet our requirements? (Type of manuscript, word count, target market…)
Is it one of the genres we consider? (For a complete list, visit www.mirrorworldpublishing.com/submissions)
Does it fit with our current list of published titles? (Browse our collection at www.mirrorworldpublushing.com)
Does it contain any of the elements we're looking for? (Take a look at our manuscript wish list for 2023)
We review all submissions we receive that follow the guidelines we have set out and we respond to all queries within six to eight weeks with feedback so you can know what steps to take next. So if you have a manuscript and you want to send it to us, do your research and follow the guidelines and we'll be happy to give it a read and let you know what we think!
Best of luck to all who submit. We look forward to reading your submissions packages!
Via: Mirror World Publishing.
About the Author
Latest Posts
Stuart Conover is a father, husband, published author, blogger, geek, entrepreneur, horror fanatic, and runs a few websites including Horror Tree!