Contest: ​Don't Be A Hero: A VILLAINthology Featured Story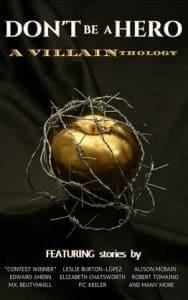 Deadline: May 1st, 2019
Payment: Contributor's Copy
Note: I was iffy on posting this but I liked the theme so much I felt there could be a few others who did as well.
The Fairfield Scribes are releasing Don't Be A Hero: A VILLAINthology,
and we're looking for our feature story.
DON'T BE A HERO.

Heroes are boring. Standing up for weaklings, defending the status quo, reacting instead of acting. Villains are the go-getters, the ones who put grand plans into motion, the ones who change the world.

For their own benefit, naturally.

Villains are complex individuals with tales of their own to tell, and it's hard to have a great story without them. There's the dark figure cackling in the shadows, the grinning businessman behind the desk, the evil emperor sending forth his legions, the jerk down the hall who deliberately parks too close to the line every day . . .

Sometimes, it just feels good to be bad.
​Submissions are open between March 1st and May 1st, 2019. Original stories only, please – no reprints will be accepted. Simultaneous submissions are fine, but please let us know immediately if your story is accepted for publication elsewhere. Word length can be between 2,000-10,000 words, which includes the possibility of a flash series of 2-4 pieces (as long as the total word count for all pieces together is between 2,000-4,000 words and the stories are all related in some way).

The winning story will be featured in the collection, and the winner will receive both an electronic and hard copy of the anthology. The author will also be promoted on our website, and invited to participate in any reading events that will be scheduled (located in the Connecticut/New York area). The Fairfield Scribes asks for first publication rights of the winning story for print and eBook; all other rights remain with the author.
We will respond to every submission we receive within a couple days to let you know we received it – if you don't hear from us within 5 days, please email us again, as that means your submission was lost. We will also offer personalized feedback on each submission. The winner will be announced on our website on June 1st, 2019, and the anthology will be released on October 1st.

Limit 1 entry per writer. Please follow 
William Shunn's guide
 to formatting stories and send all entries in .doc, .docx or .rtf format to: 
[email protected]
. In the subject line, write "Villain Anthology" or "VILLAINthology." Include a link to your website, if you have one, and a short writing bio – if you don't have either, don't worry. It won't affect your chances in the contest.
If you're looking for more info on what we publish, check out our previous anthologies, Z: Tales from the Zombieverse and When to Now: A Time Travel Anthology. We also have a list of our group's individual writing in our Scriptorium. If you have any questions about the contest not answered in these guidelines, please email us at: [email protected] and we'll get back to you as soon as possible.
Thank you, and happy writing!
***MWA HA HA HA HA HA!***
---
​Our contest is currently OPEN for submissions
​from March 1-May 1, 2019.
Via: Fairfield Scribes.