Taking Submissions: Nox Pareidolia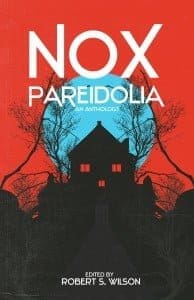 Deadline: April 30th, 2019
Payment: 6 cents per word
Open Period and Deadline
Nox Pareidolia will open to previously unpublished submissions on April 1st and will close to submission at the close of that month.
Payment
Payment will be 6 cents per word. I prefer shorter pieces but I will accept exceptional tales that are longer, however the payment will be capped 6,000 words.
Theme
The theme is heavily inspired by Robert Aickman's fiction. Initially, I envisioned a book of stories where it is ambiguous as to whether the nature of the horror/weird element is supernatural or not. But I've recently decided to make that a more openly interpreted theme of ambiguous horror/weird fiction. Whether it be ambiguously supernatural or whether what exactly has or is happening is ambiguous, or any creative idea playing off of ambiguity could be interesting to see explored. But the element that is ambiguous must be intrinsic to the story.
Formatting
Standard Shunn formatting is just fine, but we're finding more and more that we prefer single spaced manuscripts as we read submissions on our devices. And italics should preferably be italicized and not underlined. Single spaces between sentences is also a huge help when final formatting comes around. That said, we will not reject stories if the formatting isn't perfect. First and foremost make it readable. And where stories require odd formatting for effect, certainly don't change that on our account.
About the Author
Latest Posts
Stuart Conover is a father, husband, published author, blogger, geek, entrepreneur, horror fanatic, and runs a few websites including Horror Tree!