Disclosure:
Our reviews may contain affiliate links. If you purchase something through the links in this article we may receive a small commission or referral fee. This happens without any additional cost to you.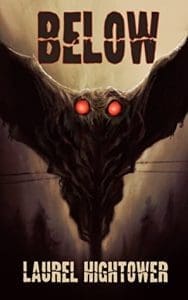 Title: Below
Editor: Laurel Hightower
Publisher: Ghoulish Books
Genre: Horror
Release Date: 29th March, 2022
Synopsis: While driving through the mountains of West Virginia during a late-night snowstorm, a recently divorced woman experiences bizarre electrical problems, leaving her with little choice but to place her trust with a charismatic truck driver. But when an unexplainable creature with haunting red eyes gets between them, she is forced to make one of the toughest decisions of her life. Will she abandon the stranger who kept her safe—or will she climb down below, where reality has shapeshifted into a living nightmare?