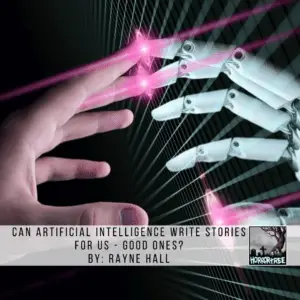 Can Artificial Intelligence Write Stories for us – Good Ones?
By: Rayne Hall
Artificial Intelligence (AI) computer programmes can create amazing works of visual art.  Can they write great novels and short stories, too? The makers of AI writing apps claim that they can. I wanted to test this myself, so I subscribed to several AI apps.
AI apps are mostly used to write promo texts – sales emails, social media posts and such. But many have a 'fiction' or 'creative story' function.  You enter a brief description of your idea, and the app produces a creative plot and turns it into a story. It sounds intriguing, doesn't it? While I would never delegate my creative process to a machine, I wondered if an AI app could become a 'collaborator'. I tried using AI it turn my ideas into first drafts, and to polish my rough drafts into sparkling manuscripts.
Did it work? The short answer: 'No.' 
Here's the more detailed answer: