Taking Submissions: The Dire Circle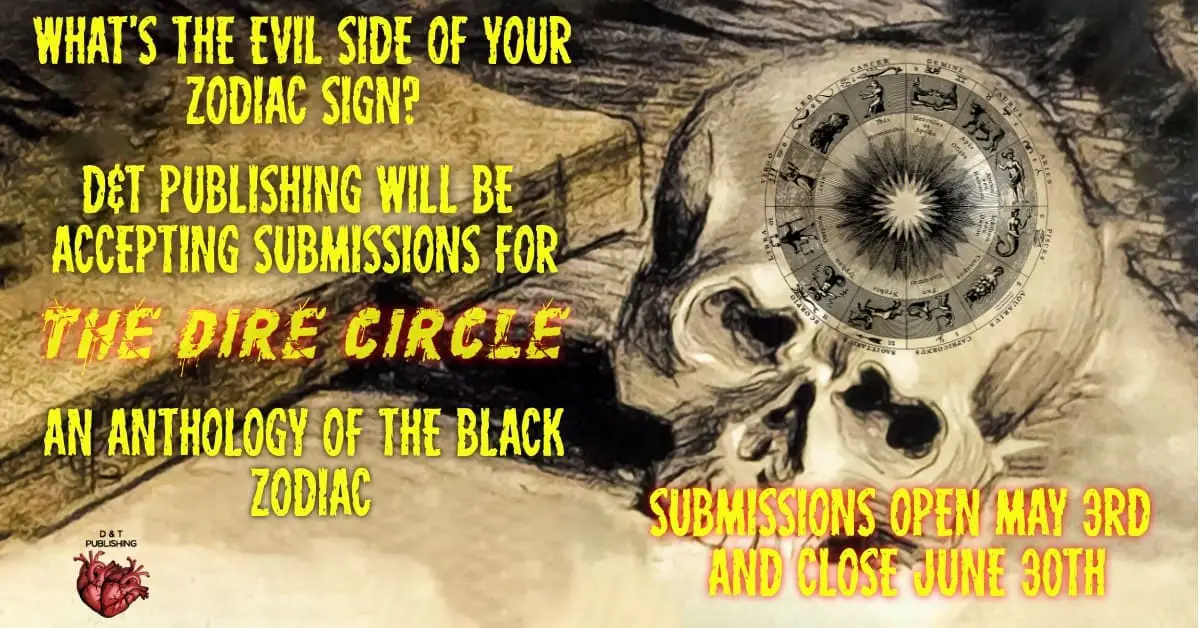 Deadline: June 30th, 2021
Payment: $25
Theme: A horror anthology that takes a look at the real black zodiac.
Open submissions being accepted for "The Dire Circle."
             Open 5/3/21 – Close 6/30/21
D&T Publishing proudly presents The Dire Circle. A horror anthology that takes a look at the real black zodiac. 
Most people know of the black zodiac as portrayed in the movie, Thirteen Ghosts. But, did you know that there is an actual black zodiac? The evil side of the zodiac circle we are so accustomed to. The evil side of the human creature. Within these pages, we will explore what evil lurks on the other side of the wheel, and what that could mean for those that tend to spend a little more time on the dark side. 
Specific information:
– If you've worked with us on some of our prior anthologies, then you will be familiar. Send us a one paragraph story, about one of the sides in the black zodiac. I will post a link below, that will help you find more information.
https://aminoapps.com/c/horror/page/blog/the-real-black-zodiac-not-13-ghost/7evF_Pua33KgRMKR8xrpz4DKrjNBQR6
– One paragraph, typed into the body of an email. No attachments. **If it is over one paragraph, it will not be read.** Send to [email protected]
– A confirmation email will be sent to you within 24 hours of receipt of your submission. Please make sure that your name is on your submission. 
– Acceptance emails will be sent out no later than 7/4/21. 
– For your email, please use The Dire Circle, as the subject. 
– If you receive an acceptance email, a link will be provided to you for a Facebook group and all other information will be provided to you at that time, as well as assignments of which story you will write. You can also find submission requirements on our website at www.dandtpublishing.com
– This will pay $25 per accepted story.
– You can submit up to two paragraphs, per person. Please put them both in the same email. 
We look forward to your submissions.
Via: D&T Publishing.
Sign up for our Newsletter
Never miss a post from our team by signing up!