Disclosure:
Our reviews may contain affiliate links. If you purchase something through the links in this article we may receive a small commission or referral fee. This happens without any additional cost to you.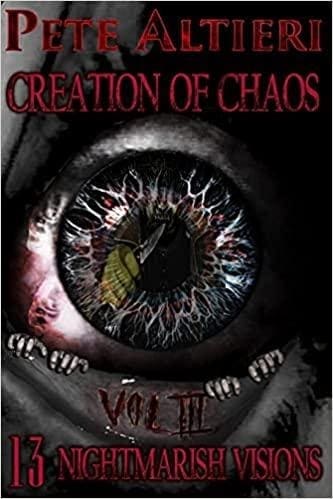 Title: Creations of Chaos, Vol III: 13 Nightmarish Visions
Author: Pete Altieri
Genre: Horror, Short Story Collection
Publisher: Blunt Force Press
Release Date: June, 2021
Synopsis: A family gets together for their final Thanksgiving dinner and each person at the table wants someone else to die. A man wakes up drenched in blood in his girlfriend's apartment with the police beating on the door and her corpse cooling in the bedroom. Four friends take a train ride that goes 666 miles an hour headfirst into an inferno. If an old, mute grave digger at an asylum weeps for the dead who have no one to mourn for them, who is crying in the cemetery at his funeral? What horrors are awakened when grave bells are ringing in the cemetery on the Day of the Dead? 
A chilling collection of 13 short stories of horror and suspense from author, Pete Altieri, includes the novella, A Dreadful Life. This also includes "October House", and "Carnival of Atonement", two previously published short stories with different endings.
I love a good collection of bone-chilling stories, and this one does not disappoint. Pete Altieri knows how to horrify, disgust, and shock. Some of the stories are ultra-gory hack and slash showcases, while others are wild ideas developed in new and exciting ways.
My favorite within the collection is "The 666 Express", about a group of friends who are on a maiden train voyage which travels from Dallas to Denver in one hour. Coincidentally, the train runs 666 miles per hour along the rails at blistering speeds, and infernal shenanigans ensue.
Just like any other collection, some stories are hit or miss. But this one had more hits than most collections out there. You won't regret one minute spent within the pages of Altieri's horrifying yarns.
I give this horror-gem collection 

out of 5 ravens