Disclosure:
Our reviews may contain affiliate links. If you purchase something through the links in this article we may receive a small commission or referral fee. This happens without any additional cost to you.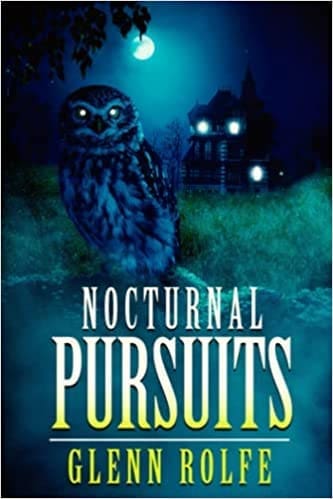 Title: Nocturnal Pursuits
Author: Glenn Rolfe
Genre: Horror
Publisher: Silver Shamrock Publishing
Release Date: 29th November, 2021
Synopsis: Glenn Rolfe (Blood and Rain and August's Eyes) is back with a new collection of deliciously frightening, thought-provoking horror. Whether dealing with werewolves in "The Dead Brother Situation", a vicious cult in "The Devil's Kin", an evil doll in the Splatterpunk Award-nominated "Molly", or gut-wrenching loss in "Gone Away", these fifteen dark tales promise to entertain, cause your skin to crawl, and make you feel a little more.
Nocturnal Pursuits takes you on a journey into the heart of an author both obsessed with and afraid of the macabre. Be it a suicide woods, a crazed gas station attendant, or neighborhood enigma throwing a party, you won't soon forget these encounters.
When the shadows fall upon the day and the living are fast asleep, Glenn Rolfe is wide-awake wrestling with aliens, demons, and the ghosts that take up the dark corners of his mind. You've been invited. Don't say we didn't warn you.