Disclosure:
Our reviews may contain affiliate links. If you purchase something through the links in this article we may receive a small commission or referral fee. This happens without any additional cost to you.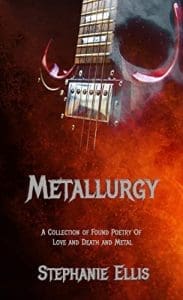 Title: Metallurgy: Of Love and Death and Metal
Author: Stephanie Ellis
Genre: Poetry
Release Date: June 16th, 2022
Synopsis:Metallurgy is an homage to the world of heavy metal and its related genres.
In these pages are 100 dark found poems created from the lyrics of bands as varied as Nine Inch Nails, Metallica, Korn, Behemoth and many more.
Although all poems are completely original works, the sources have been fully acknowledged and it is hoped that after reading the poems, the reader will then go on to listen to the artists who inspired them.