Disclosure:
Our reviews may contain affiliate links. If you purchase something through the links in this article we may receive a small commission or referral fee. This happens without any additional cost to you.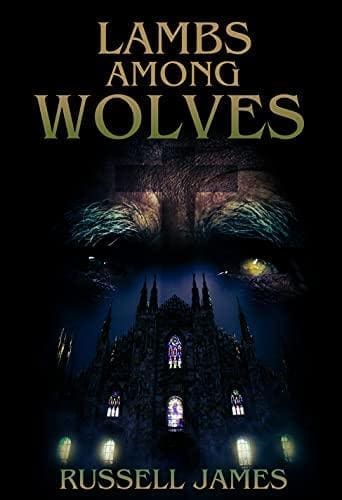 Title: Lambs Among Wolves
Author: Russell James
Genre: Catholic Horror/Thriller
Publisher: Silver Shamrock Publishing
Release Date: 6th July, 2021
Synopsis: Evil may soon consume mankind, if the demons have their way.
After the death of her father, young Cyndi Fisher travels to Paris to meet the grandfather she never knew. That man turns out to be Father Jack Cahill, a renegade exorcist who was unaware he'd fathered a child before taking his vows.
Cyndi is soon drawn into Father Jack's world, where demons from Hell are possessing humans and robbing Europe's churches of sacred relics. From the cathedrals of Paris, through the graveyards of France, and into the sewers of Rome, they confront the possessed, battle risen corpses, and fight gang members sent to stop them.
They uncover a plot to set Satan free upon the Earth, but stopping it seems impossible. Demons are always one step ahead of them, and each manifestation is more powerful than the last. Stopping Satan's return will take courage and faith. Will an aged priest and an agnostic teen have enough of either?
I know this is a strange thing to say about a horror novel, but Lambs Among Wolves was a nice cozy read. You know, like something you'd spend an afternoon reading in a folding chair next to the lake.
Years ago, I read Angels and Demons by Dan Brown. Sucked in by the history and religious intrigue mixed with a heavy dose of suspense, I absolutely loved it (don't judge me!). Russell James's Lambs Among Wolves tickled those same corners of my brain.
But there's a taste of something extra here that Brown didn't include—imagine if The DaVinci Code and The Exorcist had a baby. This would be it! Lambs Among Wolves combines two of my guilty pleasures: the pseudo history of National Treasure (that fun movie with Nic Cage) and Catholic/Possession based thriller.
I would've loved for the author to ramp up the horror aspects a touch more. Much of the story seemed fairly tame with only a hint of the absolute dread and shock that I look for in my favorite horror reading. But the heavily researched locations and Church history made up for this. James truly has a love for the milieu of the novel.
Overall, Lambs Among Wolves is fun ride that with a steady pace. Definitely check this one out.

out of 5 ravens.