Disclosure:
Our reviews may contain affiliate links. If you purchase something through the links in this article we may receive a small commission or referral fee. This happens without any additional cost to you.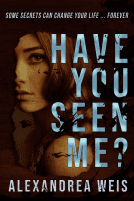 Title: Have You Seen Me?
Author: Alexandrea Weis
Genre: Mystery/Thriller
Publisher: Vesuvian Books
Release Date: 17th August, 2021
Synopsis: SOME SECRETS CAN CHANGE YOUR LIFE … FOREVER.
Lindsey Gillett is missing.
And she's not the first girl at Waverly Prep to vanish without a trace.
To help cope with the tragedy, new history teacher Aubrey LeRoux organizes a small student investigation team. But when the members start turning up dead across campus, Aubrey suspects there's more going on than anyone is willing to admit.
The murdered students all had something in common with Lindsey. They shared a secret. And what they uncovered could threaten the future of the historic school.
At Waverly Prep, someone wants to keep the past buried—along with anyone who gets in their way.
A killer stalks the grounds of Waverly Prep, murdering students and anyone who get in the way. This novel is an excellent horror/slasher. The deaths are creative and just gruesome enough without being over the top. If you're looking for classic horror/slasher movie fun, but in a novel, this is a good pick.
Unlike a typical slasher flick, none of the characters become throwaway victims. Each one shows motivation, personality, and complete rounding. Their deaths hit harder even though I saw their end coming—and I kept hoping for a last-minute rescue of my favourites.
However, as a mystery novel, this book falls short. The aforementioned creative murders often require characters to make illogical and reckless mistakes in order to establish isolation. I found it frustrating at several points, and almost amusing at others. I also felt the resolution to the mystery, while it made sense, wasn't as creative as I would have liked.
Overall, the writing and pacing is well done, and I enjoyed this book.

 out of 5 ravens.