Disclosure:
Our reviews may contain affiliate links. If you purchase something through the links in this article we may receive a small commission or referral fee. This happens without any additional cost to you.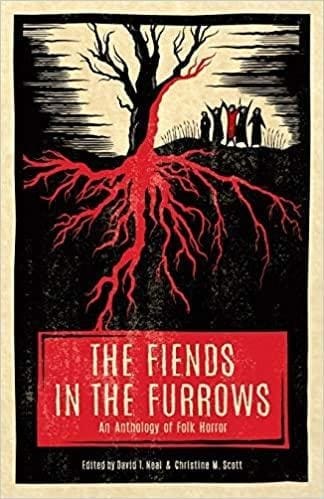 Title: Fiends in the Furrows
Author: Various, ed. David T. Neal & Christine M. Scott
Genre: Horror, Short Story, Folk Horror
Publisher: Nosetouch Press
Release Date: Sept, 2018
Synopsis:
The Fiends in the Furrows: An Anthology of Folk Horror is a collection of nine short stories that hew both to the earthy traditions and blaze new trails in Folk Horror.
Fans of Folk Horror, as well as those unfamiliar with it, will find horrors galore in these stories. Themes of rural isolation and insularity, paranoia, mindless and monstrous ritual, as well as arcane ceremonies clashing against modern preoccupations run through these stories. Nosetouch Press is proud to bring The Fiends in the Furrows: An Anthology of Folk Horror to horror enthusiasts everywhere.
FEATURING:
Coy Hall | "Sire of the Hatchet"
Sam Hicks | "Back Along the Old Track"
Lindsay King-Miller | "The Fruit"
Steve Toase | "The Jaws of Ouroboros"
Eric J. Guignard | "The First Order of Whaleyville's Divine Basilisk Handlers"
Romey Petite | "Pumpkin, Dear"
Stephanie Ellis | "The Way of the Mother"
Zachary Von Houser | "Leave the Night"
S.T. Gibson | "Revival"
Review:
Okay. So, I love some good folk horror. Give me rural cults sacrificing to corn gods–a la 'Children of the Corn,' et al. A few of my favorite movies fit this genre: Midsommar, Wickerman (both versions), Blair Witch, Viy, The Witch, The Ritual, Lair of the White Worm. These films vary widely in quality, but all are a treat. Notice that many of these are recent big hit movies which garnered a lot of attention. So, there is contemporary interest in this genre, and I am among those hungry for collections like Fiends in the Furrows.
A friend from my writing group introduced me to this anthology. He'd selected Steve Toase's story "The Jaws of Ouroboros" for us to study. I went into this story knowing absolutely nothing, and now I am frantically looking for Toase's other work. It was amazing. Not since my first reading of Nathan Ballingrud's "Atlas of Hell" was I so blown away. Just like Ballingrud, Toase builds a terrifying setting filled with dread and the supernatural. The price of this book is worth it just for this one story.
There is also a story by HorrorTree's very own Stephanie Ellis! "The Way of the Mother" is a creepy yarn that is a mix of Wickerman and Shirley Jackson's "The Lottery". There are ultra visceral and emotional images in this one. Give it a shot!
The remainder of the collection is hit or miss, but all are worth your time. I intend to pick up a copy of the follow up anthology: The Fiends in the Furrows II: More Tales of Folk Horror. (https://www.amazon.com/Fiends-Furrows-II-Tales-Horror/dp/1944286209/)
I give this anthology

out of 5 ravens