Taking Submissions: Worst Laid Plans: An Anthology of Vacation Horror
UPDATE: CLOSED EARLY – APRIL 10TH 2020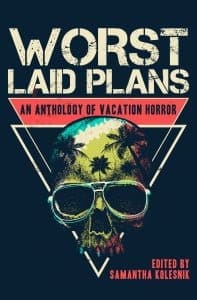 Deadline: May 15th, 2020 NOTE: CLOSED EARLY
Payment: $0.01/word + 1 print contributor copy
Theme: Short stories about summer vacations gone wrong
Worst Laid Plans: An Anthology of Vacation Horror
Grindhouse Press seeks short stories about summer vacations gone wrong for its upcoming horror fiction anthology, Worst Laid Plans: An Anthology of Vacation Horror, edited by Samantha Kolesnik. Summer vacation is often romanticized as a time of joy, but sometimes even the best laid plans go awry. Send in your horrifying tales for consideration in Grindhouse Press's first-ever horror anthology.
Guidelines:
●All submissions must be in the horror genre.
●No simultaneous submissions. All submitters will be notified of acceptance or rejection by June 1, 2020 at the latest.
●Submissions must not have been previously published anywhere. This includes personal blogs and social media.
●Submissions must be in standard manuscript format and submitted as an attached MS Word document or Google doc.
●Only one submission per author allowed.
●We welcome fiction which is bold, risky and graphic if it's in service of the story.
Submissions should be emailed to [email protected] with the name of the author and the title of the story in the email subject line. Please include in the body of the email a brief author bio (2-4 sentences), and submission word count.
Payment: $0.01/word + 1 print contributor copy
Length: 2,000 – 6,000 words
Deadline: May 15th, 2020 or until filled
Via: Grind House Press.
About the Author
Latest Posts
Stuart Conover is a father, husband, published author, blogger, geek, entrepreneur, horror fanatic, and runs a few websites including Horror Tree!