Taking Submissions: UnCommon Origins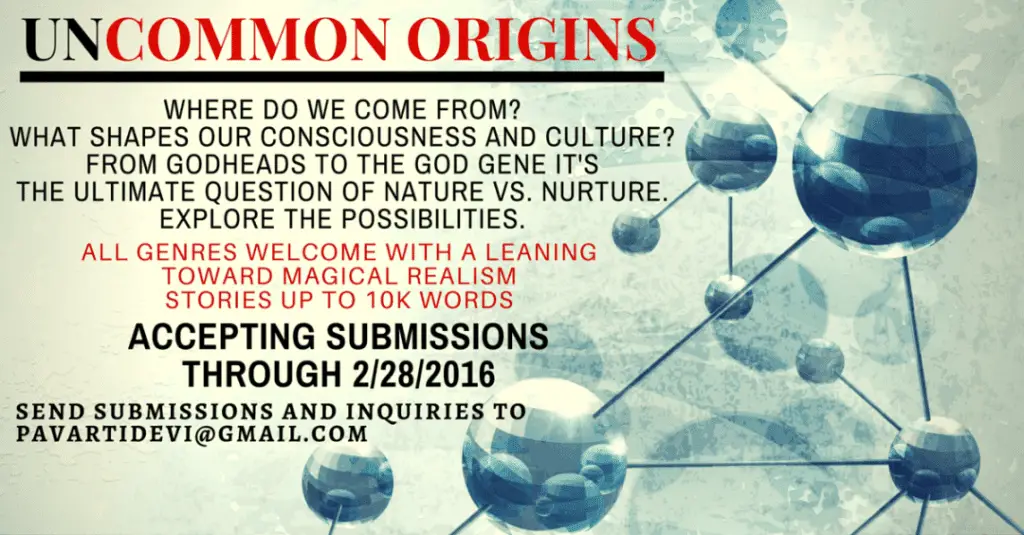 Deadline: February 28th, 2016
Payment: Royalty Split
Note: Sorry about the low submissions time on this one, just came across it today.
UnCommon Origins:  Creation Stories, Feral Children, Spontaneous Evolution, anything you can think of which relates to the beginning of something new and unique. Stories may be of the grand scale of Gods or the more personal scope of the individual.  Stories need not be based in reality, in fact, fantasy and magical realism elements are encouraged. The collection as a whole will be geared toward an adult audience, although your story does not need to be.
Stories displaying hatred or intolerance of any kind will not be accepted.
Submission Details:
Submissions must be in American English and written to the highest quality you are capable.  Passive voice is discouraged.  A pass with an editor before submission is encouraged.
Maximum Word Count is 10,000 however I'm not going to turn away something awesome that's a little over.
This is a paid market anthology, with a royalty cut for each author. Details available upon request.
The author retains all rights to their story.
All submissions will be edited and sent to the author for final approval before publication.
The submission period runs from Jan 1st until Feb 28th.
Open internationally, but submission must be in American English.
There is no fee to submit.
Please, no reprints or simultaneous submissions.
Multiple submissions accepted. Limit of two submissions per person.
Any genre is fine. However, we are not looking for nonfiction at this time.
Adult language and sexual situations are permitted.
Submissions must be sent in WORD doc or docx, 12pt Times New Roman with 1.5 line spacing, full justified with0.3″ indents on the first line of each new paragraph (Do NOT use TAB), no extra spacing between paragraphs and no headers/footers/page numbers, one space after end of sentence – not two.
Acceptances are scheduled to be sent out by March 15th.
To submit, please send your story to [email protected] and include the following information:
Author Name:
Email:
Story Title:
Word Count:
Short Summary:
3rd Person Biography:
If you have any questions, please email me at Pavarti[email protected] or submit your question through the contact page.
I can't wait to see the amazing stories that bubble up from the depths of your imaginations!  Bring it!
Via: Fighting Monkey Press.
About the Author
Latest Posts
Stuart Conover is a father, husband, published author, blogger, geek, entrepreneur, horror fanatic, and runs a few websites including Horror Tree!