Taking Submissions: Twelve
March 20, 2013 @ 8:00 am

-

5:00 pm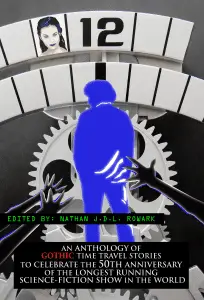 Deadline: Aug 20th, 2013
Payment: Exposure only.
Flash fiction & Short Stories (1,000 – 4,000 words)
2013 is the year a British staple of science-fiction and horror celebrates its 50th anniversary – Doctor Who.
The cult time travel show I refer to has redefined the fantastic and the terrifying for decades of children, and has managed to entertain adults alike.
So here's your chance to tell the sort of time travel tale you've always wanted to…
I'm looking for Gothic horror yarns set in a science fiction universe, not unlike the most popular stories from the program I've already mentioned.
For obvious copyright reasons, I must ask that your stories are written in a similar tradition only.
This means that your stories can behave as if you are writing for the twelfth incumbent of the role, but you must have your time traveller and assistant arrive in their own time machine, and have their own unique back story – complete originality.
Let your imagination run wild.
Dark fairytales, bizarre, horror, surrealism, dark science-fiction and steam punk are all cool here.
Submission guidelines:
Deadline for submissions – August 20, 2013.
Word Count: 1,000 – 4,000 words.
Please submit your manuscript as a *.doc or *.docx file (all other formats will automatically be rejected. Contact me prior to submitting if this presents an issue for you.)
Font and formatting: Please submit in Times New Roman, 12 point font; single line spacing. Please format the document to 1st line indentation of 1″. The page margin should be set to .1″ on all sides.
Please check grammar.
Only stories previously unpublished may be submitted. Upon acceptance into the anthology, you agree that Horrified Press holds exclusive publishing rights for six months from the date of publication; after that date has passed, all intellectual property rights revert to the author with the proviso that Horrified Press retains distribution rights in the format of the contracted anthology.
This title will be available as an E-book, and as a quality trade paperback
Nathan J.D.L. Rowark will be presiding over this anthology.
Email your submission as an attachment to; [email protected]
The email subject line must read "SUBMISSION – Twelve – 'your story title'" or your submission will not be considered for this anthology.
Successful applicants will be notified before the deadline has expired.
[via: Horrified Press.]
About the Author
Latest Posts
Stuart Conover is a father, husband, published author, blogger, geek, entrepreneur, horror fanatic, and runs a few websites including Horror Tree!