Taking Submissions: Tower Magazine February Window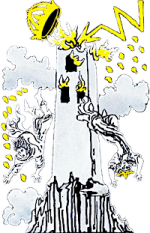 Deadline: February 28th, 2023
Payment: €20
Theme: horror, sci-fi, fantasy and erotica that grapple with the topic of Endings
Note: Reprints Welcome
Submissions are open from February 01-28 2023 for TOWER VOL. 1: END. We accept all genres and encourage submissions of horror, sci-fi, fantasy and erotica.
For VOL. 1: END we're looking for work that grapples with endings, death, dissolution and finality; sudden, brutal endings; torturously slow breakdowns; how do things come to an end and who gets to decide?
Some inspirations:
The desperation for an ending to the tortures of Gretchen Felker-Martin's No End Will Be Found
The cyclical violence in "Herbert White" by Frank Bidart
The clash between audience and artist's expectations of an ending in ABC's LOST
The desperate battle against a prophesied ending in William Shakespeare's Macbeth
The incomprehensible disappearance and abrupt end of an internet friendship in Lol Cuthbert's "This journal has been deleted and purged"
How we go on after the end of the world in Gretchen Felker-Martin's Manhunt, Kentaro Miura's Berserk and Torrey Peters' Infect Your Friends and Loved Ones
The role of geography and place in predetermining a life as in Cherie Priest's Those Who Went Remain There Still
The endless scroll of Tiktok
PAYMENT
Payment is €20 per contributor paid via PayPal or Revolut.
Co-authored pieces count as one contributor.
Issues will be hosted at readtower.itch.io and available for PWYC down to free.
REPRINTS
We are open to reprints and encourage submissions of self-published materials (EG. an illustration or comic posted to Twitter, a short story published on itch.io).
SIMULTANEOUS / MULTIPLE SUBMISSIONS
We're totally fine with simultaneous submissions, just email us withdrawing your piece if it's accepted elsewhere.
Please only submit once per category, making a different submission for each category. We encourage submissions of related works (EG. a story and accompanying illustration).
FORMATTING
We love pieces with unusual formats, specific layouts or mixed media, for example, "The Pipeline" by Jem Nash, "Opabinia" by Ashely Adams, "Downward is Heavenward" by Natali Tautou and Guestbook: Ghost Stories by Leanne Shapton.
Just bear in mind TOWER is published as an A4 PDF.
SUBMISSION DETAILS
Please review all the guidelines before submitting at the link below.
→ SUBMIT HERE (FEB 01-28)
or copy: https://forms.gle/mCG96zAGBAecQPU98
Please use 12 pt double-spaced Times where possible; writing with specific formatting or layout requirements can be attached as a PDF depending on the piece's needs.
FICTION WRITING
One piece of maximum 5000 words.
Please submit this as one .doc/.docx attachment.
NON FICTION WRITING
One piece of maximum 5000 words.
Please submit this as one .doc/.docx attachment.
We're interested in all kinds of non fiction including personal essays, criticism, analysis, research, and more.
POETRY
Up to 8 pages of poems.
This can include multiple poems.
Please submit these as one .doc/.docx attachment.
COMICS
Up to 15 pages of comics.
This can include multiple short comics.
Comics may be fiction or non-fiction.
Please submit these as one PDF.
VISUAL ART
1-5 pieces of visual art (illustration, traditional art, digital art, photography, collage, etc.)
Please submit these as one PDF.
REVIEWS
NOTE: We have selected a review for VOL. 1 but will continue considering pitches for future volumes. Reviews do not have to be closely linked to the volume theme.
Once per issue we will publish a 1000 word review of a book published at least 10 years ago that fits TOWER's credo of upheaval and bad vibes. (The older the better.)
You can pitch a review by emailing us at [email protected] with the subject header "REVIEW – [BOOK TITLE] [YEAR]" (EG. "REVIEW – BEAR (1976)") and a short paragraph about why you'd like to bring this book back into the spotlight.
ON IRELAND
TOWER is based out of Ireland; we are open to international submissions and aim to publish at least two Irish pieces per issue.
Our definition of Irish artists and writers are people born or residing on the island of Ireland.
Via: Tower Magazine.
About the Author
Latest Posts
Stuart Conover is a father, husband, published author, blogger, geek, entrepreneur, horror fanatic, and runs a few websites including Horror Tree!