Taking Submissions: The Sirens Call Issue #10 – Monsters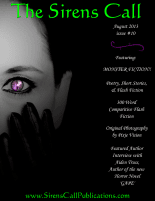 Deadline: July 31st 2013
Payment: Exposure Only
Lions and tigers and bears – oh my! Not even close…
MONSTERS!
That's right; we want your best creature story. But no copyright infringement; make sure they are your own creations. Scare us! Freak us out! Make us wet our drawers!
The theme for the August issue of The Sirens Call eZine is Monsters and fear!
Full guidelines at www.SirensCallPublications.com!
Deadline for submissions: Wednesday, July 31st, 2013
Sirens Call Publications is open to everyone: pre-published works, online serials, Indie authors, authors of note – if you have a tale to tell, we want to read it.
We are an edgy/dark Fiction Publisher interested in stories of Horror, Fantasy, Science Fiction, Mystery and Suspense. If your work falls outside one of those genres and you believe that Sirens Call Publications is a good fit for you, feel free to give us a try. We are a co-operative of writers with many varied tastes and styles, and while your piece may not fall into one of our main categories, it doesn't mean that we won't consider working with you on it.
We will not publish stories containing sexual content involving minors in any way, or stories containing [Editor's Note: This market has specific guidelines for things they do not want to see. Please click on the link at the bottom of this post for all the details and follow their guidelines: it's the polite and respectful thing to do. Also, it will help those submitting avoid being rejected on anything other than the quality of their work.]
; other than that, the only boundaries are your imagination!
Sexual content unnecessary to the storyline is discouraged unless you are submitting an erotic story for consideration.
Gore for the sake of gore or simply included for shock value in a piece is discouraged as well, and will most likely not garner our attention unless it is necessary to support the storyline.
eZine Specific Guidelines (that overrule General guidelines if applicable):
Previously published works will be considered for inclusion.
Please refer to the guidelines attributed to each individual eZine.
Please submit stories, flash fiction or poetry that is relevent to the topic of each eZine.
Artwork, photography, book ads, and interviews are always welcome, please inquire.
The eZine is an 'exposure only' market, we do not pay for eZine submissions.
Ask questions if you are not sure if your work meets the specified guidelines.
General Guidelines:
We work on a percentage sharing scale with our authors; details will be discussed after submissions are approved.
Submissions should be sent as attachments to your email, not copied into the body of the message.
Attachments should be in *.doc or *.docx format.
Font details: Times New Roman, 12 point with single spacing; single line breaks with standard formatting.
Accentuated line or paragraph breaks should be denoted by '***' centered on a single line.
Please indent the first line of each new paragraph.
Please do not submit entire manuscripts initially; include up to a 500 word synopsis in your email, and attach the first chapter.
Do not be offended if you do not receive an immediate response, we work as quickly and fairly as we can, and will address your submission as soon as possible.
Electronic submissions only. Please format the title of your email as:
"SUBMISSION – 'genre' – 'your story title'"
All submissions should be emailed to [email protected]
We are nice people, please be courteous when corresponding as we are engendering an atmosphere of cooperative publishing, not heavy handed dominance.
About the Author
Latest Posts
Stuart Conover is a father, husband, published author, blogger, geek, entrepreneur, horror fanatic, and runs a few websites including Horror Tree!