Taking Submissions: The Devil's Hour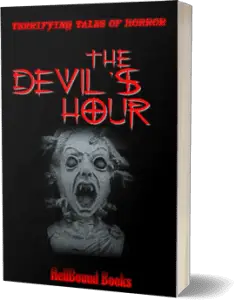 Deadline: February 28th, 2019
Payment: $5
… no hard and fast theme for this one – send us your very best horror stories and tales of unrelenting terror! Monsters, ghouls, demons, vampires, werewolves, and all manner of slithering, crawling creatures – throw us your most terrifying short stories and scare the wits out of everyone at HBB!
To submit, email your polished story to [email protected]
PLEASE read and adhere to our submission guidelines…
* Word format saved in .doc, or .docx
* 12 pt times new roman
* Double spaced
* Absolutely NO extra lines between paragraphs!
* 5K-15K word count (although we are incredibly flexible for awesome stories!)
* Write 'DEVIL'S HOUR' along with your name and story title in the header of your email
*The body of your submission email will be considered the cover letter.
* The submission documents are to be separated and Word (.doc or .docx) documents are to be attached to your submission email.
– Make sure that you check your mss for grammar and punctuation, use our guidelines to help you:
DOWNLOAD YOUR HBB GUIDE TO GRAMMAR HERE (PDF)
Deadline: FEBRUARY 28th 2019 (publication March 2019)
NO REPRINTS – ORIGINAL UNPUBLISHED WORKS ONLY
Payment –$5 for first rights
Capped at 150K words in total
Via: Hellbound Books Publishing.
About the Author
Latest Posts
Stuart Conover is a father, husband, published author, blogger, geek, entrepreneur, horror fanatic, and runs a few websites including Horror Tree!