Taking Submissions: The Cellar Door: Marshland Horror #5 (Early Listing)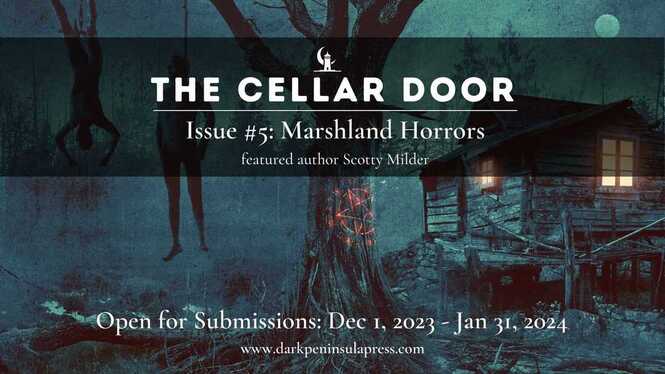 Submission Window: December 1st, 2023 – January 31st, 2024
Payment: $25 and a contributor's copy
Theme: Horror/suspense stories that take place in swamps, bayous, and marshlands
The Cellar Door – Issue #5: Marshland Horrors
Compiled & Edited by Aric Sundquist
Short Story Submission Call: Dec 1, 2023 – Jan 31, 2024
The Cellar Door is a biannual anthology of dark fiction. Each issue will contain 8 to 12 stories based around a specific theme and will include a brand new story from a featured author. The majority of the anthology will be filled from the open submissions.
Title: The Cellar Door – Issue #5: Marshland Horrors
Theme: Looking for horror/suspense stories that take place in swamps, bayous, and marshlands. Special preference for stories with backwater cults/legends, cryptid monsters, and other slimy creatures lurking just below the water.
Type: Creature feature, serial killer, undead/zombies, voodoo/witchcraft, suspense/thriller, cosmic horror.
Word Count: 2,000 – 10,000 words.
Payment: $25.00 + digital & paperback copy.
Featured Author: Scotty Milder
Accepted Authors (so far):
Cover Art: Mikio Murakami
Rights: We are seeking first time rights for 1 year after publication. After that time all rights revert back to the author. The publication will appear in both print and digital formats.
Reprints: None. Previously unpublished only.
Multiple Submissions: None.
Simultaneous Submissions: Yes, but state in your email that it is a simultaneous submission, and please email us immediately if the story is sold elsewhere. Also, be sure to follow the Manuscript Format guidelines below when submitting.
File Format: Include your story as an attachment in MS Word, LibreOffice, or Rich Text Format.
Manuscript Format: Use the Modern Shunn Format. Include a short bio in the body of your email. Your subject line should read, MH Submission: ("Title") by (Author's Name). For Example, MH Submission: "The Raft" by Stephen King. Attach the story as a separate document.
Response Time: 4 weeks after submissions close, if not sooner.
Submission Period: Dec 1, 2023 to Jan 31, 2024.
Send Submissions to: darkpenpress (at) gmail (dot) com
Influential Movies/TV: The Serpent and the Rainbow, Pumpkinhead, Annihilation, Hatchet, The Skeleton Key, Rogue (2007), The Beyond, A House on the Bayou, True Detective (Season 1)
Influential writings/series: Man-Thing (Marvel comic series), Swamp Thing (DC comic series), The Call of Cthulhu by HP Lovecraft, Gone South by Robert R. McCammon, Seed by Ania Ahlborn
---
Via: Dark Peninsula Press.
About the Author
Latest Posts
Stuart Conover is a father, husband, published author, blogger, geek, entrepreneur, horror fanatic, and runs a few websites including Horror Tree!