Taking Submissions: The Book of Queer Saints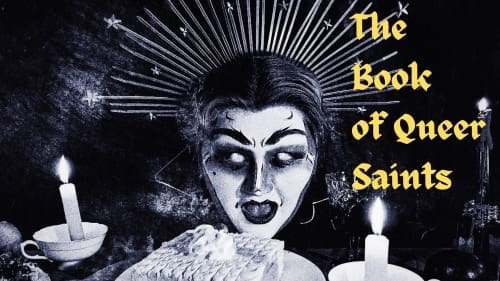 Deadline: October 31st, 2021
Payment: $0.02 per word and 3 contributor's copy
Theme: An anthology where unabashedly queer villains, anti-heroes, and outlaws reign supreme.
Note: This anthology is open to all writers who identify as LGBTQ+
I'm of the opinion that all the best ideas are born by chance. Something you perceive might strike you and, akin to the feeling of deja vu, you double-take and it haunts you. 
That is how The Book of Queer Saints was conceived: A Twitter conversation between myself, Sam Richard of WeirdPunkBooks, and Eric Raglin of Cursed Morsels, about queer representation in horror lit and how public opinion shapes (or tries to shape) how we write our queer characters. 

Most in the horror community are aware of the practice of review bombing, and have witnessed it occurring as a reaction to what folks have marked "trauma adult content" in queer horror stories. While most of these review bombers seem to be outsiders to the horror community, the effect it has on the queer writer can be disheartening, discouraging, and alienating. Assumptions made about the sexual and gender identity of the writer and unfair ratings based on hearsay are pervasive.
The Book of Queer Saints is a reaction to this discourse, a statement about the complexity and nuance of queer folks and their stories. 
It is an anthology where unabashedly queer villains, anti-heroes, and outlaws reign supreme. 
SUBMISSION GUIDELINES:
This anthology is open to all writers who identify as LGBTQ+
No simultaneous submissions.
Only one submission per person.
Submission period: August 2, 2021 – October 31, 2021
Word count requirements: 2,000 – 6,000 words
Accepted submissions will be announced on December 1, 2021
Anthology will be published in print and e-book format in February 2022.
PAYMENT: 
Writers with accepted stories will be paid $0.02 per word and receive 3 contributor copies in print upon publication.
FORMAT:
Standard manuscript format only. No columns or other experimental formatting.
Send as a doc/docx attachment. Do not copy/paste your story in the body of the email.
Send submissions to [email protected] and include your first and last name, the title of your story, and word count in the subject line of your email.
Include an author bio of no more than 100 words, an author photo, and your Twitter, Instagram, or other link if desired.
RIGHTS: 
Exclusive First Worldwide Publication, Print, and Electronic Rights for three months, and non-exclusive rights thereafter.
OTHER CONSIDERATIONS: 
Stories containing graphic depictions of sexual violence will not be considered.
All stories must be original works featuring original characters. No fanfiction, though folks who write fanfiction are always welcome.
Via: Mae Murray.
About the Author
Latest Posts
Stuart Conover is a father, husband, published author, blogger, geek, entrepreneur, horror fanatic, and runs a few websites including Horror Tree!