Taking Submissions: The Aanatomy Of Monsters Vol. 2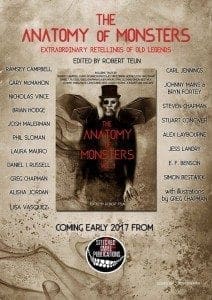 Deadline: October 31st, 2017
Payment: $25usd and contributor's copy
$25.00 PLUS COPY
Min word count: 3,000 words.
Max word count: 10,000 words.
Send submissions to: [email protected]
DEADLINE: OCT 31ST 2017
THE ANATOMY OF MONSTERS VOL. 2
We're looking for new takes on old monsters!
What unholy pact did the very first vampire make to become what they are now?
How did Werewolves become slaves of the moon?
Who was the first Ghost in the world and how did they react?
The Mummy, The Hunchback, The Phantom Of The Opera, The Invisible Man, and even The Creature From The Black Lagoon…
How did they come to be?
How do they deal with their new nature?
And who suffers because of it?
This volume will be open to more folklore horror, Witches! Baba Yaga! And many, many more!
I prefer less splatter and more scare.
News will follow on these pages:
The Anatomy Of Monsters Facebook page: https://www.facebook.com/TheAnatomyOfMonster/?ref=bookmarks
Twitter: @RDTEUN
About the Author
Latest Posts
Stuart Conover is a father, husband, published author, blogger, geek, entrepreneur, horror fanatic, and runs a few websites including Horror Tree!